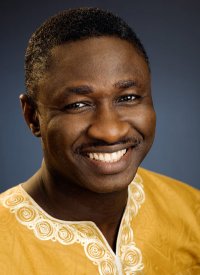 This is a LKL Blog Exclusive by Frederick Nnoma-Addison, President & CEO of the Washington, DC based Africa Media-Image Project, an African interest news and media production organization working to bridge the information gap between the United States and African countries. He is the Author and publisher of a book that celebrates 50 years of U.S. – Ghana/Africa relations.
With several 10-hour direct flights to many capital cities on the continent, Africa isn't as far from the U.S. as many Americans perceive it to be. The flight time from Washington, DC to Accra, Ghana is the same as that from Washington, DC to Honolulu, Hawaii. This comparison of physical distances also holds true for the virtual distances between the two regions, thanks in part to free markets and a globalized economy. Today we in America are able to patronize African coffee, jewelry, clothing, chocolates, roses, crude oil and thousands of other products as though they originated from our backyards while those in Africa benefit from U.S. government and private sector investments on a daily basis. As individuals and nations we are more closely linked than stereotypes would have us believe.
U.S. trade with sub-Saharan Africa has more than doubled since the African Growth & Opportunity Act (AGOA) was signed into law in 2000. According to the U.S. Department of Commerce (2008 report), U.S. imports from sub-Saharan Africa alone exceeded $86 billion, more than quadruple the amount in 2001. During the 2009 AGOA Forum in Nairobi, Secretary of State Hillary Rodham Clinton acknowledged the interdependence between the United States and Africa with the following words, "America is Africa's largest trading partner."
The now outdated concept of a distant, so-called 3rd world (mostly used to describe Africa), is just one example of how people in economically advanced countries like the United States view themselves as being separated from Africa and the rest of the world. Of course skewed news media coverage of the African continent is partly responsible for this mindset. A paragraph from President Barack Obama's Accra speech, July 11, 2009 accurately highlights the new realities of international relations and the bonds we share as individuals and nations in a much smaller, global community.
"The 21st century will be shaped by what happens not just in Rome or Moscow or Washington, but by what happens in Accra as well. This is the simple truth of a time when the boundaries between people are overwhelmed by our connections. Your prosperity can expand America's. Your health and security can contribute to the world, and the strength of your democracy can help advance human rights for people everywhere." – President Barack Obama.
Americans who have served in U.S. Embassies abroad, in the U.S. Military or have represented their multinational corporations overseas have a better appreciation of America's interdependence on Africa and the rest of the world and vice versa. With the current world economic order, the concept of a global village could not be truer and it calls for a totally different world view from everyone. I would even argue that the once lofty subject of international relations is no longer the exclusive domain of career diplomats and Foreign Service officials but rather every citizen of the world including the illiterate coffee farmer in a remote village in Uganda or Kenya whose crops find their way to the Starbucks shop near the White House in Washington, DC.
Djibouti is one of Africa's most impoverished nations yet it is America's most important African partner in the fight against global terrorism. Djibouti's strategic location between Somalia and Ethiopia makes it a perfect spot for U.S. military and intelligence operations. It sits at the intersection of the Red Sea and the Gulf of Aden and within striking distance of Yemen and Somalia, the two main suspected havens of Al Qaeda followers. Camp Lemonnier, situated at the Djibouti-Ambouli International Airport is the only U.S. military infrastructure on the entire African continent today. Who would have thought that such an impoverished, mostly desert African nation would emerge as America's key partner in the fight against global terrorism? On January 21st 2003, President George W. Bush met Djibouti's President Ismail Guelleh in the Oval Office, and why would he not make this a priority since President Guelleh's government hosts a major U.S. Military base. Of course hundreds of Djibouti nationals are also thankful to the United States for providing good jobs with the establishment of the military base, so it's a win-win situation.
Africa is the second largest continent, home to 12% of the world's total population (840million) and undisputedly the largest supplier of raw materials to industries around the world. Contrary to what many believe, U.S.-Africa engagement, which is not limited to governments, extends way beyond humanitarian assistance and conflict resolution to trade, industry, education, cultural exchanges and other mutually beneficial partnerships. Without even counting the ties America and Africa share through the Trans Atlantic slave trade, America's bonds with Africa far outweigh the differences and distance that separate them and the two are much closer than we could ever imagine.
Africa is not that far you know!
For more information on the 50 years of U.S. – Ghana/Africa relations, click HERE
Filed under: