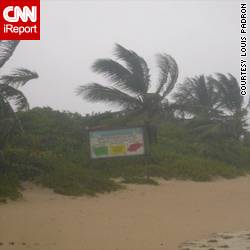 Hurricane Earl continues its forceful journey across the Atlantic Ocean, packing 135 mph (215 kph) winds and moving toward the east coast of the United States.
As of 4 a.m. ET Tuesday, the Category 4 hurricane was about 150 miles (240 km) north-northwest of San Juan, Puerto Rico, according to the National Hurricane Center in Miami, Florida. Earl was headed west-northwest at about 13 mph (21 kph).
The cyclone is expected to turn northwest later Tuesday and could approach the North Carolina coast by Thursday night or Friday morning.
Earl could dump another 1 to 2 inches of rain on parts of the U.S. Virgin Islands and Puerto Rico on Tuesday, the weather center said. In areas of higher elevations, the hurricane could leave a total of 12 inches of rain.
"These rains could cause life-threatening flash floods and mudslides," the hurricane center said.
Filed under: Weather
Whether you've been to Opryland in Nashville, Tenn., or not – this video of the flooding there is incredible.
[youtube=http://www.youtube.com/watch?v=VfL5j9ckcyo]
Filed under: Weather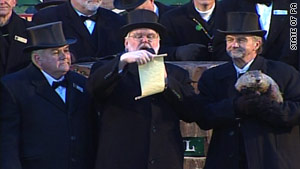 Punxsutawney Phil, America's most famous rodent prognosticator, saw his shadow Tuesday, signaling six more weeks of winter.
Phil emerged from his ceremonial tree stump at Gobbler's Knob, Pennsylvania, to a cheering crowd that had waited in the cold for his annual prediction.
It is the 99th time that Phil - in his various incarnations - has seen his shadow, according to groundhog.org, the official Web site of the groundhog club in Punxsutawney, about 75 miles northeast of Pittsburgh, in western Pennsylvania.
Not seeing a shadow - something that has happened just 15 times in Phil's history, according to the club - would have meant spring is around the corner.
Phil's predictions don't mean much to human weather predictors, however.
CNN meteorologist Chad Meyers, citing stormfax.com, said Phil is correct 39 percent of the time. The U.S. National Oceanic and Atmospheric Administration goes even further, saying Phil has "no predictive skill."
Filed under: Weather