May 6, 2009
Posted: 09:44 AM ET
By U.S. Senators John McCain and Lindsey Graham/Wall Street Journal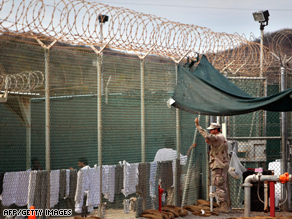 When President Barack Obama declassified and released legal memoranda from the Department of Justice, he opened the door to a drawn-out battle over the Bush administration's use of coercive interrogation techniques on suspected terrorists. We believe that any subsequent attempts to subject those who provided such legal advice to prosecutions are a mistake. They will have a chilling effect on the candor with which future government officials provide their best counsel.
The country must move on from debates about the past, because pressing questions about U.S. detention policy in the war on terror requires us to make difficult choices - and to make them soon.
In January, the president announced via executive order that the detention facility at Guantanamo Bay will close within a year. The announcement was easy - but it left unanswered the hardest questions about detainee policy for the future.
Filed under: Guantanamo Bay
January 23, 2009
Posted: 02:51 PM ET
WASHINGTON (CNN) - Promising to return America to the "moral high ground" in the war on terrorism, President Obama issued three executive orders Thursday to demonstrate a clean break from the Bush administration, including one requiring that the Guantanamo Bay detention facility be closed within a year.
During a signing ceremony at the White House, Obama reaffirmed his inauguration pledge that the United States does not have "to continue with a false choice between our safety and our ideals."
The president said he was issuing the order to close the facility in order to "restore the standards of due process and the core constitutional values that have made this country great even in the midst of war, even in dealing with terrorism."
Answer our "Question of the Day" about Guantanamo Bay detainees HERE!
Filed under: Guantanamo Bay • Obama • War on Terror
Posted: 02:51 PM ET
President Obama issued an executive order to close down Guantanamo Bay detention facilty within a year.  
The Pentagon reports 245 detainees/enemy combatants are presently housed at GITMO.
So our "QUESTION OF THE DAY" is:
WHAT SHOULD BE DONE WITH THOSE BEING HELD AT GUANTANAMO BAY DETENTION FACILITY?
Sound off and tune-in tonight to "Larry King Live," at 9 p.m., ET.  We just may use your coment on the air!
CLICK HERE to answer our "Question of the Day."
Filed under: Guantanamo Bay • Obama • Question of the Day