January 7, 2010
Posted: 11:59 PM ET
By Sudarsan Raghavan via Washington Post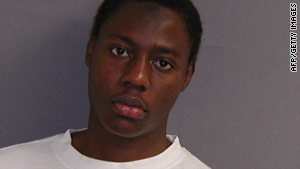 SANAA, YEMEN - In its strongest language yet, Yemen's government declared Thursday that there are limits to its military cooperation with the United States, warning that any direct U.S. action in this impoverished Middle Eastern nation could bolster the popularity of Islamist militants.
"If there is direct intervention by the United States, it will strengthen al-Qaeda," warned Rashad al-Alimi, Yemen's deputy prime minister for security and defense. "We cannot accept any foreign troops on Yemeni territory."
The statement underscored the rising concern among Yemen's leadership about a domestic backlash that could politically weaken the government and foment more instability. In recent days, top Yemeni officials have publicly played down their growing ties to Washington, fearing that they will be perceived by their opponents as weak and beholden to the United States.
(Read More)
Filed under: al Qaeda • Larry King Live • Politics • Terrorism
December 27, 2009
Posted: 07:31 PM ET
(CNN) - A security alert aboard a Northwest Airlines jet ended Sunday after investigators determined the incident - the second in two days involving a Detroit, Michigan-bound flight - was "non-serious," federal authorities said.
The crew of Northwest Flight 253 reported a "verbally disruptive" passenger Sunday and requested police meet the plane when it arrived from the Netherlands, the airline told CNN. The man was questioned by police after the plane landed in Detroit early Sunday afternoon.
The Amsterdam-to-Detroit flight is the same one targeted Friday in what prosecutors called a failed attempt to blow up a jetliner. Sandra Berchtold, a spokeswoman for the Joint Terrorism Task Force in Detroit, said Sunday's alert was caused by a passenger who "spent a lengthy time in the restroom."
"This raised concerns, so an alert was raised," she said. "JTTF investigated, and the investigation shows that this was a non-serious incident and all is clear at this point."
The passenger spent about an hour in the bathroom and got upset when he was questioned by the crew of the flight from Amsterdam, Netherlands, according to government sources. Law enforcement agents questioned the man Sunday.
The jet had the same designation - Flight 253 - as the one on which a Nigerian man is accused of attempting to set off an explosive device Friday, said Scott Wintner, a spokesman for the Wayne County Airport Authority. Winter told CNN the flight "requested emergency assistance and was pulled aside upon arrival in Detroit."
The jet was taken a long distance from the terminal and "completely engulfed" by emergency vehicles and heavily armed police once it landed, said Don Graham, who was waiting for relatives to arrive at the airport.
The flight arrived about 12:34 p.m., said Susan Elliott, a spokeswoman for Delta Air Lines, which owns Northwest. The 257 passengers were allowed to leave the aircraft about an hour after the jet landed, she said.
Filed under: al Qaeda • Crime • Larry King Live • Terrorism
November 13, 2009
Posted: 07:11 PM ET
Editor's note: Paul Cruickshank, a Fellow at the NYU Center on Law and Security, regularly contributes to CNN's coverage of al Qaeda terrorism.  He will be a guest on tonight's LKL.
New York (CNN) - The announcement that Khalid Sheikh Mohammed and four other men accused of the 9/11 attacks will soon be moved to New York to face trial in a federal court will be welcomed by some Americans as finally starting the process of bringing the perpetrators of these attacks to justice.
To date, not one person has been convicted for the attacks. But it also will be a reminder that their boss, the man most responsible for killing 3,000 civilians - the majority of them Americans but many from all around the world - is still at large.
President Obama has stated that it is vitally important for the country to put some of the controversial policies of the last eight years behind it. While the forthcoming trial of Khalid Sheikh Mohammed and several figures allegedly involved in plotting the 9/11 attacks in New York will be helpful, nothing would help more than if Osama bin Laden were captured, afforded full due process and put on trial.
It would be nothing short of a watershed moment, doing much to restore the public's confidence in American institutions and the rule of law after years of being told that they were too quaint for the challenges of a new era. And it would go a long way, too, in restoring the moral high ground for the United States in the court of global opinion.
An indictment dating back to 1998 awaits al Qaeda's leader in the Southern District Federal Court of New York, which can be easily updated by a grand jury to include his crimes since. This is where Mohammed and four others accused of the 9/11 attacks are also expected to be tried.
Less than a mile from ground zero, there could be no more appropriate place to try bin Laden. There is virtually no chance that bin Laden would walk free from a U.S. courtroom as there are at least three separate video recordings of him acknowledging responsibility for the 9/11 attacks.
Filed under: al Qaeda • Osama bin Laden
May 15, 2009
Posted: 12:55 AM ET
Carolyn Lochhead, Chronicle Washington Bureau
Washington – - Senate testimony painted a stunning picture Wednesday of panicked Bush administration officials resorting to harsh interrogation techniques, while House Speaker Nancy Pelosi remained mum about what she knew when about torture.
---------
Yet amid the political brawl, testimony Wednesday from a former FBI interrogator, Ali Soufan, and a Bush State Department deputy, Philip Zelikow, revealed a sobering portrait of fear-struck officials resorting to simulated drowning – or waterboarding – extreme sleep deprivation, prolonged confinement in small spaces, humiliation and other interrogation methods without examining their history, their efficacy or their larger consequences in the battle against extremism.
Soufan, testifying behind a screen to shield his identity, painted a picture of incompetence by outside contractors hastily flown in from Washington using "amateurish, Hollywood-style interrogation methods." He also accused Bush administration officials of making false claims about their success.
Filed under: al Qaeda • Larry King Live • Politics
May 13, 2009
Posted: 12:07 AM ET
(CNN) - The accused terrorist who said he was tortured into making a false connection between al Qaeda and Iraq has died in a Libyan prison, human rights monitors said Tuesday.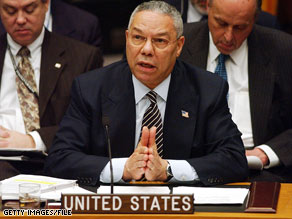 Colin Powell featured Ibn al-Shaykh al-Libi's claim in a presentation to the U.N. Security Council.
Ibn al-Shaykh al-Libi's allegation that Iraqi agents trained al Qaeda operatives in the use of chemical and biological weapons was "pivotal" to the Bush administration's case for the 2003 invasion of Iraq, said Stacy Sullivan, a counterterrorism adviser for the U.S.-based Human Rights Watch.
"He's a fairly significant figure in the counterterrorism world, and his testimony I would say provided the linchpin for the invasion of Iraq," she said.
Then-Secretary of State Colin Powell featured al-Libi's claim in the dramatic presentation he made to the U.N. Security Council just weeks before the invasion, citing it as evidence of ties between Iraqi dictator Saddam Hussein's government and the terrorist network responsible for the 2001 attacks on New York and Washington. Al-Libi recanted his account after the invasion, and no other evidence supported the story, the Senate Intelligence Committee reported in 2006.
Al-Libi's death was first reported by a Libyan newspaper over the weekend and confirmed by Human Rights Watch researchers Monday, Sullivan said. The newspaper report said he had committed suicide, and the group is asking Libya to conduct a "full and transparent" investigation into his death.
Filed under: al Qaeda • Iraq • Larry King Live