December 1, 2009
Posted: 02:35 PM ET
By Mike Allen and James Vandehei via Politico
On the eve of the unveiling of the nation's new Afghanistan policy, former Vice President Dick Cheney slammed President Barack Obama for projecting "weakness" to adversaries and warned that more workaday Afghans will side with the Taliban if they think the United States is heading for the exits.
In a 90-minute interview at his suburban Washington house, Cheney said the president's "agonizing" about Afghanistan strategy "has consequences for your forces in the field."
"I begin to get nervous when I see the commander in chief making decisions apparently for what I would describe as small 'p' political reasons, where he's trying to balance off different competing groups in society," Cheney said.
"Every time he delays, defers, debates, changes his position, it begins to raise questions: Is the commander in chief really behind what they've been asked to do?"
Obama administration officials have complained ever since taking office that they face a series of unpalatable — if not impossible — national security decisions in Afghanistan and Pakistan because of the Bush administration's unwavering insistence on focusing on Iraq.
But Cheney rejected any suggestion that Obama had to decide on a new strategy for Afghanistan because the one employed by the previous administration failed.
Filed under: Afghanistan • Obama • Politics • Vice President Dick Cheney
October 13, 2009
Posted: 11:20 AM ET
Former Vice President Dick Cheney's eldest daughter Liz will launch a new group aimed at rallying opposition to the "radical" foreign policy of the Obama administration which it says has succeeded only in undermining the nation's security.
The new group, Keep America Safe, will make the case against President Barack Obama's moves to wrench America away from Bush era foreign policy on issues from detaining alleged terrorists at Guantanamo Bay to building a missile shield in Eastern Europe.
"The policies being proposed by the Obama administration are so radical across the board," Cheney said. "Whether you're a Republican or a Democrat, you want the nation to be strong and so many steps this president is taking are making the nation weaker."
The new group will add institutional heft to a scathing critique of Obama articulated first and loudest by Liz Cheney's father, and fills a void left by a Republican Party made skittish by the Iraq War, and apparently more eager to engage the president on domestic issues like health care. Its formation marks the end of an unusual partisan truce on America's central national security challenge, Afghanistan, and after a presidential campaign in which Obama and Republican John McCain agreed on many security issues from Central Asia to Guantanamo Bay.
Filed under: Obama • Politics • Vice President Dick Cheney
July 22, 2009
Posted: 11:14 AM ET
May 18, 2009
Posted: 08:12 AM ET
By Steven Hayes
Well, that settles it. Maureen Dowd thinks Dick Cheney should shut up. Cheney, she writes, is "batty," has "numskull ideas," and "still loves torture."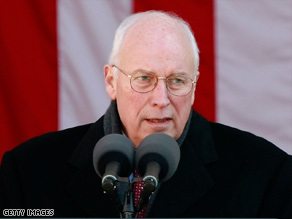 "Just as Jeb Bush and other Republicans are trying to get kinder and gentler, Cheney has popped out of his dungeon, scary organ music blaring, to carry on his nasty campaign of fear and loathing."
Cheney, she concludes, "has replaced Sarah Palin as Rogue Diva."
Oh, snap.
All of this, we are told, is hurting Republicans. "It is very difficult for me to understand how the continued presence of Dick Cheney in the public eye could be helping the Republican Party at all," wrote Joshua Tucker, a professor at New York University, on Politico in response to a question about whether Cheney is helping Democrats or Republicans.
Read MORE from the Weekly Standard
Filed under: Politics • Vice President Dick Cheney
April 27, 2009
Posted: 08:10 AM ET
By Former Ambassador Joseph Wilson
Former Vice President Dick Cheney's reemergence on the political stage after his ignominious departure on Inauguration Day, eschewing the traditional handshake with his successor and the new president, is nothing if not ironic.
The most secretive individual in American politics is now calling for the selective release of documents that remain classified in one of his own files marked "Detainees." We have also learned that a principal reason for having tortured senior al Qaeda detainees was not, in fact, to defend the Homeland, but rather to build the case for war with Iraq based on alleged ties between Saddam Hussein and Osama bin Laden. Despite literally hundreds of waterboarding sessions, there was no evidence developed that such a link existed. But that did not stop Cheney. He and others in the Bush administration simply asserted a link even though they knew one did not exist.
I know something about Cheney's disinformation. When I, and a number of others, including a four-star Marine Corps general, Carleton Fulford, and the then-U.S. Ambassador to the West African nation of Niger, reported to the CIA that there was no evidence to support the assertion that Iraq had entered into a contract to purchase 500 tons of uranium yellowcake, our conclusions were ignored by the Bush administration. Instead, the president, in his State of the Union address in 2003, proclaimed a falsehood: "Saddam Hussein recently sought significant quantities of uranium from Africa." Then National Security Adviser Condoleezza Rice was trotted out to assert that we could not afford to "wait for the smoking gun to come in the form of a mushroom cloud," and Cheney himself asserted that Iraq was reconstituting its nuclear-weapons program.
Filed under: Vice President Dick Cheney
March 16, 2009
Posted: 07:55 AM ET
Former Vice President Dick Cheney on Sunday defended the Bush administration's economic record, the invasion of Iraq and the treatment of suspected terrorists, warning that reversing its anti-terrorism policies endangers Americans.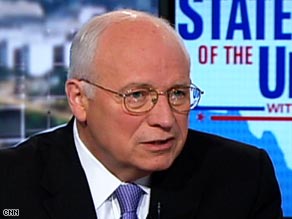 In an interview with CNN, Cheney said the harsh interrogations of suspects and the use of warrantless electronic surveillance were "absolutely essential" to get information to prevent more attacks like the 2001 suicide hijackings that targeted New York and Washington.
"President Obama campaigned against it all across the country, and now he is making some choices that, in my mind, will, in fact, raise the risk to the American people of another attack," he said.
Critics said the Bush administration's "alternative" interrogation techniques amounted to the torture of prisoners in American custody, while the administration's warrantless surveillance program violated federal laws enacted after the Watergate scandal.
Filed under: Vice President Dick Cheney