This past Tuesday's primaries took a backseat to the news of a plane crash in Alaska that killed Senator Ted Stevens and four other passengers. Former NASA Administrator Sean O'Keefe was also on board, surviving with three others.
Regarding the primaries, a lot of the coverage focused on Connecticut and the race to replace retiring Senator Chris Dodd. Former World Wrestling Entertainment executive Linda McMahon won Connecticut's GOP Senate primary, setting up a general election battle against the state's attorney general.
A few political stories did get a little less news coverage, though, including these:
** Levi Johnston, the father of former AK Governor Sarah Palin's grandchild, is running for her old post of Mayor of Wasilla, Alaska.  Not as a call to civic duty, rather as a reality show called "Loving Levi: The Road to the Mayor's Office."
** Vice President Joe Biden's Air Force 2 plane was involved in a minor accident when the plane's engines caused a small private plane to topple over. (NYDailyNews)
** If a Supreme Court Justice trips and is not hurt, is that news?  Apparently so… (WPRI-TV)
**The reigning Super Bowl Champs, the New Orleans Saints, celebrated their championship (6 months later) at the White House.  The White House press corps was treated to some BBQ shrimp compliments of one of the players.
Posted by: LKL Producer Hunter Waters
Filed under: Levi Johnston • Politics is King • Sarah Palin • Supreme Court • Vice President Biden
From CNN Senior White House Correspondent Ed Henry
Washington (CNN) – In the White House room where Abigail Adams used to air out her clean laundry, Vice President Joe Biden used some dirty language.
A microphone picked up Biden uttering the "F" word Tuesday in the majestic East Room of the White House, as President Obama signed the historic health care reform bill into law.
After delivering a rousing introduction of the president in which he praised Obama's "perseverance" and "clarity of purpose," Biden turned to embrace his boss.
As the crowd of approximately 300 people cheered wildly, Biden turned to Obama and said with a big smile, "This is a big f– deal!"
The president did not react to the comment, apparently aware that the microphones may have picked up the words.
Shortly after the ceremony, White House Press Secretary used his Twitter feed to try and diffuse any controversy.
"And yes Mr. Vice President, you're right..." Gibbs tweeted from his @PressSec Twitter account.
An aide to the vice president pointed reporters seeking comment to Gibb's tweet.
The vice president is known for unscripted moments, but not in such a high-profile setting as a bill-signing ceremony in the East Room. According to the White House Historical Association, first lady Abigail Adams was famous for using the room to dry her laundry. President John F. Kennedy lay in state in the East Room after his assassination in 1963.
Filed under: Politics is King • Vice President Biden
by Joe Biden, Vice President of the United States
For years, we had a White House that failed to put the middle class front and center in its economic policies.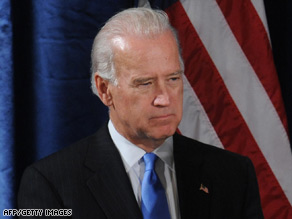 President Obama has made it clear that is going to change. And it's why he has asked me to lead a task force on the middle class.
America's middle class is hurting. Trillions of dollars in home equity, retirement savings and college savings are gone. And every day, more and more Americans are losing their jobs.
For the backbone of the USA, it's insult on top of injury. Over the course of America's last economic expansion, the middle class participated in very few of the benefits. But now in the midst of this historic economic downturn, the middle class sure is participating in all of the pain. Something is seriously wrong when the economic engine of this nation — the great middle class — is treated this way.
Filed under: Economy • Vice President Biden