June 28, 2010
Posted: 05:16 PM ET
Can "The Office" survive without Steve Carell?  Leave your thoughts here.
By Kristin Dos Santos
via Eonline.com
If you happen to see Steve Carell in the next few days, knock him over the head, will ya? Out of love? 'Cause clearly his brain has gotten all jumbly.
One of TV's best comedic actors of all time has just confirmed to us that he is indeed leaving The Office this May—argh!—and get this, seems to think no one will care...
E! News hit the red carpet for Steve's new movie Despicable Me last night, and Steve made it clear he was not joking when he told BBC Radio he would leave The Office after the coming 2010-2011 season.
"I just think it's time," Steve told our Kristina Guerrero. "I want to fulfill my contract. When I first signed on I had a contract for seven seasons, and this coming year is my seventh. I just thought it was time for my character to go."
But according to Steve, The Office could go on without him. "It doesn't certainly mean the end of the show. I think it's just a dynamic change to the show, which could be a good thing, actually. Add some new life and some new energy...I see it as a positive in general for the show."
Filed under: Entertainment • Steve Carell • Television
June 9, 2010
Posted: 03:15 PM ET
The summer doldrums have arrived in the world of network television.  What does that mean?  Reality hell, and not just "Hell's Kitchen."  It also seems we're enjoying the NBA Finals.  Games 1 and 2 finished the week 2 and 1, and helped ABC to a weekly win.  But after that, it's all repeats and reality, except for "Glee," which was the 11th most watched show for the week.  Here's the top 10 (11 really, we included "Glee" for all the Gleekniks, or whatever they're called).
Source: Nielsen, via USAToday.com
Rank
Show name

Network

Viewers in millions

Season-to-date average (in millions)

1.
NBA Finals Game 2

ABC

15.71

-

2.
NBA Finals Game 1

ABC

14.1

-

3.
America's Got Talent, Tues.

NBC

12.4

12.4

4.
NCIS

CBS

10.8

18.6

5.
60 Minutes

CBS

10.4

13.2

*
America's Got Talent, Wed.

NBC

10.4

10.4

7.
Tow and a Half Men

CBS

9.8

-

8.
Big Bang Theory

CBS

9.5

-

9.
The Mentalist

CBS

9.5

-

10.
NCIS: Los Angeles

CBS

9.3

15.6

11.
Glee

Fox

9.0

9.8
Filed under: Entertainment • Nielsen Ratings • Television
May 18, 2010
Posted: 10:47 AM ET
by Jeff Probst
via EW.com
As I type this I am on the plane flying back to Los Angeles less than 12 hours after Sandra became first two-time Survivor winner.  So bear in mind I'm a bit fuzzy headed and therefore may say things I later regret or later realize aren't funny or even interesting.
I'm not going to argue whether Sandra should have won or not.  I've learned from last season that it's a bit pointless.  The jury is in charge and the jury made their decision.
Having said that… I will go on record and say that I would have voted for Parvati.  No question.
Not taking anything away from Sandra.  Sandra is a very good player and she does one thing very well – she avoids the vote.  Two times played, two times won, two times never voted out.  Hard to argue against that record.
Had I been given a vote, I would have voted for Parvati because she played her ass off.  She zigged and zagged her away through the Samoan jungle like nobody's business.  I was truly impressed.    She handled Russell in a way nobody else could have.  The double idol play was bold.  The subtle social game she played was spot on.  I think she played an overall better game than Sandra.
Filed under: Jeff Probst • Television
April 27, 2010
Posted: 01:06 PM ET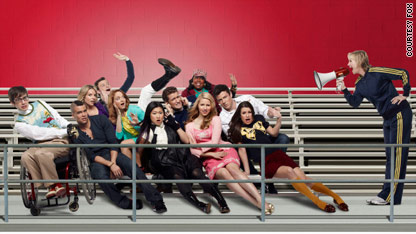 by Tim Stack
via EW.com
Good news for Britney Spears and Glee fans: series creator Ryan Murphy tells EW that an all-Britney episode of the hit Fox musical, an idea floated by Spears' manager via twitter on April 21 after Tuesday's all-Madonna Glee, is actually being considered.
Says Murphy, "I'm interested in the Britney Spears idea. I've always loved her. I'm entertaining it. I think young kids would like that." Murphy also says that he's contemplating doing similar hour tributes to Billy Joel, Led Zeppelin, and, even, Courtney Love! "I actually ran into Courtney Love the other day and talked to her," says Murphy.
"She's interested. I would love to have the kids do a Courtney Love episode one day." But he stresses that with all of these artists it really all comes down to the music and how it fits in the Glee universe. "The key is the songs in the catalogue have to have a certain degree of theatricality," says Murphy.
What Britney songs do you want to appear on Glee?
Filed under: Britney Spears • Music • Television