Statements are already beginning to pour in regarding the death of Massachusetts Senator Ted Kennedy – we'll be paying tribute and want to hear your memories of the Senator.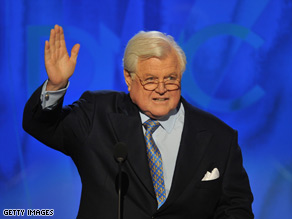 Governor Arnold Schwarzenegger:
"Maria and I are immensely saddened by the passing of Uncle Teddy. He was known to the world as the Lion of the Senate, a champion of social justice, and a political icon. Most importantly, he was the rock of our family: a loving husband, father, brother and uncle. He was a man of great faith and character. Teddy inspired our country through his dedication to health care reform, his commitment to social justice, and his devotion to a life of public service. I have personally benefitted and grown from his experience and advice, and I know countless others have as well. Teddy taught us all that public service isn't a hobby or even an occupation, but a way of life and his legacy will live on."
Senate Majority Leader Harry Reid:
"The Kennedy family and the Senate family have together lost our patriarch. My thoughts, and those of the entire United States Senate, are with Vicki, Senator Kennedy's children, his many nieces and nephews, and his entire family. "It was the thrill of my lifetime to work with Ted Kennedy. He was a friend, the model of public service and an American icon."As we mourn his loss, we rededicate ourselves to the causes for which he so dutifully dedicated his life. Senator Kennedy's legacy stands with the greatest, the most devoted, the most patriotic men and women to ever serve in these halls. "Because of Ted Kennedy, more young children could afford to become healthy. More young adults could afford to become students. More of our oldest citizens and our poorest citizens could get the care they need to live longer, fuller lives. More minorities, women and immigrants could realize the rights our founding documents promised them. And more Americans could be proud of their country."Ted Kennedy's America was one in which all could pursue justice, enjoy equality and know freedom. Ted Kennedy's life was driven by his love of a family that loved him, and his belief in a country that believed in him. Ted Kennedy's dream was the one for which the founding fathers fought and for which his brothers sought to realize."The liberal lion's mighty roar may now fall silent, but his dream shall never die."
Nancy Reagan:
I was terribly saddened to hear of the death of Ted Kennedy tonight. Given our political differences, people are sometimes surprised by how close Ronnie and I have been to the Kennedy family. But Ronnie and Ted could always find common ground, and they had great respect for one another. In recent years, Ted and I found our common ground in stem cell research, and I considered him an ally and a dear friend. I will miss him. My heart goes out to Vicki and the entire Kennedy family.
Nancy Pelosi, Speaker of the House
"Today, with the passing of Senator Edward M. Kennedy, the American people have lost a great patriot, and the Kennedy family has lost a beloved patriarch. Over a lifetime of leadership, Senator Kennedy's statesmanship and political prowess produced a wealth of accomplishment that has improved opportunity for every American. Senator Kennedy had a grand vision for America, and an unparalleled ability to effect change. Rooted in his deep patriotism, his abiding faith, and his deep concern for the least among us, no one has done more than Senator Kennedy to educate our children, care for our seniors, and ensure equality for all Americans. Ted Kennedy's dream of quality health care for all Americans will be made real this year because of his leadership and his inspiration. Sadly, Senator Kennedy left us exactly one year after he inspired the nation with his speech of optimism, vitality, and courage at the Convention in Denver. On behalf of all Members of Congress, and personally on behalf of my family, today and in the days ahead, our thoughts and prayers are with the entire Kennedy family, especially with Senator Kennedy's devoted wife Vicki, and with Kara, Teddy Jr., and our colleague Patrick, who made their father so proud. I hope it is a comfort to them that our nation and the world mourn their loss and are praying for them at this sad time."
Filed under: Congress • Ted Kennedy