January 18, 2010
Posted: 04:46 PM ET
Editor's Note: Suze Orman is a financial adviser and hosts "The Suze Orman Show." She has written several books on managing personal finances, including "Women and Money." For more on donating to Haiti, watch "Haiti: How You Can Help," a special two-hour edition of Larry King Live with Ben Stiller, Scarlett Johansson and many others, tonight 8pm ET.
I imagine you have been as glued to the news as I have the past few days, seeing the horrific aftermath of the earthquake in Haiti and the heroic relief efforts that are under way.
At times like these, we are galvanized to offer help. Especially when we are being told that the need for financial donations is high. But at the same time, I know many of you are very concerned about your own financial earthquakes that you've recently been through.
You believe you can't really afford to give, but deep down, you know that you can't afford not to give, either. So what to do?
Recognize that what you give is not as important as simply giving something.
Yes, the estimates of the amount of aid needed to help the Haitians are huge. But that doesn't mean your donation needs to be huge.
If your budget is tight, give what you can. If $10 is what you know you can honestly afford, then $10 is the right and honorable amount for you to donate. (You can text "Haiti" to 90999 to donate $10 to the Red Cross International Response Fund.)
But here is the point: Do not feel you cannot do much, and what you can give doesn't matter. It matters big-time. I have to tell you, a family whose members are financially struggling but manage to find $10 to donate is more charitable, in my opinion, than well-to-do families that send in $50 or $100 when they really could easily afford to send in $5,000 or $10,000 or more.
(Read MORE of Suze's commentary HERE)
**For a full list of Organizations responding to the crisis in Haiti, please visit Impact Your World at www.cnn.com/impact
Filed under: Haiti Earthquake • International • Suze Orman
December 10, 2009
Posted: 03:27 PM ET
Tonight, personal finance guru, Suze Orman, will be taking your calls and questions on Larry King Live…
Have a money question?  What do you want to ask her?  Let us know below and be sure to tune in at 9pm ET / 6pm PT to hear the answers!
Filed under: Larry King Live • Suze Orman
April 30, 2009
Posted: 12:17 PM ET
Do you know what your family would do if you lost your job - or worse, your home? Financial expert Suze Orman is ready to help you devise a recession rescue plan to survive - and possibly thrive - during this deepening financial crisis.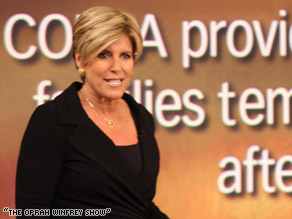 Families are also losing their homes at a staggering rate. Each day, another 10,000 homes are foreclosed, forcing families to turn to shelters filled to capacity. Left with no place else to go, some people are putting makeshift roofs over their heads in tent cities.
As the crisis continues, it's easy to let fear take over - but it doesn't have to. Orman's five-step plan can help you rise above and take control. "There's only one person that's going to save you right now, and that's yourself," she says. "You have got to get on what I'm calling the 'save yourself movement.' Each and every one of you has to have your own personal financial stimulus action plan."
Filed under: Finance • Suze Orman
February 5, 2009
Posted: 01:25 AM ET
Your job is at risk. This has nothing to do with how talented and well-respected you are, or the fact that your past three reviews have been gold star. You are at risk for reasons that have nothing to do with you. The double whammy of the credit crisis and an economic recession increases the likelihood that businesses will be forced to cut back on costs, and that could mean reducing staff.
In this environment, just hoping you will be spared is not the right action. You must take active steps today to make sure your family is safe no matter what happens jobwise in 2009. That means making sure you're saving to pay the bills instead of runing up credit card debt or raiding your retirement accounts. It also means having health insurance no matter what and a game for landing your next job.
Filed under: Larry King Live • Suze Orman
January 8, 2009
Posted: 10:05 AM ET
Suze Orman, the well-known personal finance expert and host of The Suze Orman Show on CNBC will be our guest tonight on LARRY KING LIVE!!
In the meantime,read her LKL BLOG EXCLUSIVE, "How to be Smarter than the CEOs," HERE
And get your questions ready!  Let us know what you need to ask Suze to help you through these dismal economic times.
Filed under: Larry King Live • Suze Orman
September 29, 2008
Posted: 05:03 PM ET
Today, the $700 billion dollar Wall Street bailout did not pass in Congress, and the stock market tanked. What does this mean for your wallet, your 401k, and your job security?
How will the world financial crisis affect the U.S. elections, and who is to blame?
Suze Orman, Ben Stein, and others join Larry. Ask our experts, and chime in with your opinions. We might even use your questions and comments on air!
Filed under: Ben Stein • CNN • Larry King Live • Suze Orman