September 10, 2010
Posted: 07:00 PM ET
Legendary Physicist Stephen Hawking!
Stephen Hawking says that God did not
create the universe!
In a rare interview, hear his controversial new
claims on the origins of life and mankind's
ultimate mysteries – why are we here?
TAKE OUR POLL: DID GOD CREATE THE UNIVERSE?
Filed under: Stephen Hawking
Posted: 06:02 AM ET
By Michael Watts
LKL Producer
I've been a producer on "Larry King Live" for almost 12 years, and I'm frequently asked, "what's your coolest experience?" The stock answer: producing Stephen Hawking.
I journeyed to Cambridge when he was our guest in December 1999, and have been lucky enough to come back for his latest appearance on "Larry King Live." This experience, while just as rewarding, has been a little different.
Hawking's ALS has clearly progressed in the last decade. Even so, I continue to be amazed at how well he manages to communicate. The hand clicker he used in 1999 to command his communication system has been replaced by a sensor that monitors subtle cheek movements. But the software he uses looks very similar. It also says a great deal about Prof. Hawking that among the easiest words for him to pull up and speak is "thanks."
Hawking is almost completely paralyzed. Unfortunately, his endearing smile is no longer possible, but his sense of humor is still very much in tact. Just read a few pages of "The Grand Design" if you doubt that.
Filed under: Larry King Live • Stephen Hawking
September 9, 2010
Posted: 06:09 PM ET
Watch Stephen Hawking on Larry King Live Friday!
Filed under: Stephen Hawking
September 8, 2010
Posted: 02:30 PM ET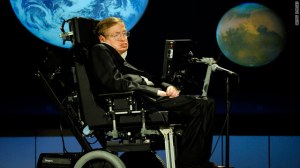 Friday night Prof. Stephen Hawking will be a guest on Larry King Live.  In his controversial new book, The Grand Design, Hawking contends a new unified theory (actually, it's a collection of theories), concludes God was not necessary to create the universe and there are, in fact, an untold number of universes.  Oh, he also tries to answer the ultimate questions of life, why we're here, and light topics like that.
So we want to hear from you: Do you think God created the universe?
Leave your comment, and we might read it during Friday's show.
Filed under: Larry King Live • Stephen Hawking