By NY Times columnist Paul Krugman
Over the weekend The Times and other newspapers reported leaked details about the Obama administration's bank rescue plan, which is to be officially released this week. If the reports are correct, Tim Geithner, the Treasury secretary, has persuaded President Obama to recycle Bush administration policy — specifically, the "cash for trash" plan proposed, then abandoned, six months ago by then-Treasury Secretary Henry Paulson.
This is more than disappointing. In fact, it fills me with a sense of despair.
After all, we've just been through the firestorm over the A.I.G. bonuses, during which administration officials claimed that they knew nothing, couldn't do anything, and anyway it was someone else's fault. Meanwhile, the administration has failed to quell the public's doubts about what banks are doing with taxpayer money.
And now Mr. Obama has apparently settled on a financial plan that, in essence, assumes that banks are fundamentally sound and that bankers know what they're doing.
It's as if the president were determined to confirm the growing perception that he and his economic team are out of touch, that their economic vision is clouded by excessively close ties to Wall Street. And by the time Mr. Obama realizes that he needs to change course, his political capital may be gone.
Filed under: Economy • Paul Krugman • Sec. Tim Geithner
By Tim Geithner, U.S. Secretary of the Treasury
The American economy and much of the world now face extraordinary challenges, and confronting these challenges will continue to require extraordinary actions.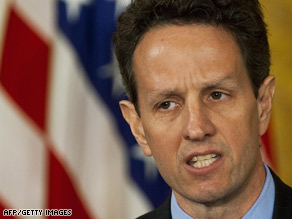 No crisis like this has a simple or single cause, but as a nation we borrowed too much and let our financial system take on irresponsible levels of risk. Those decisions have caused enormous suffering, and much of the damage has fallen on ordinary Americans and small-business owners who were careful and responsible. This is fundamentally unfair, and Americans are justifiably angry and frustrated.
The depth of public anger and the gravity of this crisis require that every policy we take be held to the most serious test: whether it gets our financial system back to the business of providing credit to working families and viable businesses, and helps prevent future crises.
Over the past six weeks we have put in place a series of financial initiatives, alongside the Recovery and Reinvestment Program, to help lay the financial foundation for economic recovery. We launched a broad program to stabilize the housing market by encouraging lower mortgage rates and making it easier for millions to refinance and avoid foreclosure. We established a new capital program to provide banks with a safeguard against a deeper recession. By providing confidence that banks will have a sufficient level of capital even if the outlook is worse than expected, more credit will be available to the economy at lower interest rates today - making it less likely that the more negative economy they fear will take place.
Filed under: Economy • Sec. Tim Geithner