By Patrick Gavin & Anne Schroeder Mullins
Via Politico.com
On Thursday night, Tareq and Michaele Salahi made a rare public appearance at District bar in Adams Morgan for a "Hollywood vs. Bollywood" party hosted by nightlife blogger Kelly Ann Collins. POLITICO had a chance to catch up with the couple, who became household names after they crashed the White House's state dinner in November. 
"This is our first public appearance in Washington, D.C., since November," said Tareq Salahi. "We're here to celebrate the America's Polo Cup." The event marked the beginning of polo season and started "the countdown to the USA vs. India match in June," according to an invite. (You'll recall that the state dinner the Salahis crashed was intended to honor the prime minister of India.)
"We have stayed quiet; we have stayed low key," said Tareq. "That's what we committed to do, and we've honored the commitment we've made with ourselves and with our counsel and with others to stay quiet and not discuss things that weren't really necessary to discuss."
Not that they had entirely put the state dinner in the past. In fact, Tareq was sporting White House cufflinks.
We had to ask: Would they do it all over again, given that the crashing stunt made them famous?
No way.
Filed under: Entertainment • President Obama • Salahis
By Xuan Thai, CNN White House producer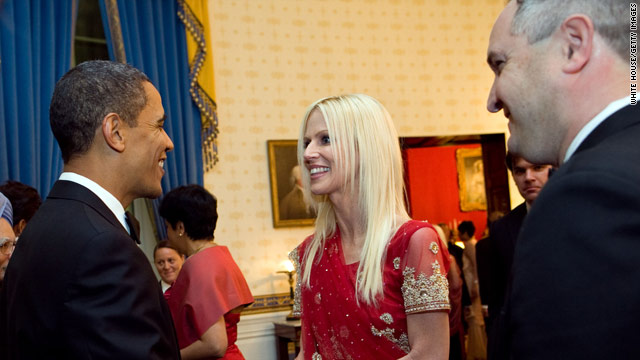 I confess, I've met Tareq and Michaele Salahi.
I met them a number of years ago. Yes, at a Washington party - I don't think they were crashing that time, as they've been accused of crashing a White House state dinner in November.
Then it was a reception for a well-known Italian designer-type, one in which people put on the one item they own by that label, one that I'm a little embarrassed to admit to have attended.
At first, they seemed like a normal couple, but minutes into our conversation it became clear to me that there was something a little different about the pair.
At the time, there were no reports of Michaele's alleged misrepresentation of being a former Washington Redskins cheerleader, no cameras following them around as they tried out for a reality TV show, no questions about their charitable organization or other claims that have come to light.
But even then, something seemed odd - they addressed me like they'd known me for years and that I would want to hear about the legal woes they were having with Tareq's mother. They dropped names, such as basketball star Shaquille O'Neal, the fabulous events they went to, the incredible things they did.
I knew or thought they were interested in talking to me for only one reason: I'd just told them I worked in television news.
Needless to say, they left a lasting first impression.
Filed under: Salahis • White House