February 20, 2009
Posted: 08:15 AM ET
By conservative radio host Rush Limbaugh
Dear President Obama:
I have a straightforward question, which I hope you will answer in a straightforward way: Is it your intention to censor talk radio through a variety of contrivances, such as "local content," "diversity of ownership," and "public interest" rules - all of which are designed to appeal to populist sentiments but, as you know, are the death knell of talk radio and the AM band?
You have singled me out directly, admonishing members of Congress not to listen to my show. Bill Clinton has since chimed in, complaining about the lack of balance on radio. And a number of members of your party, in and out of Congress, are forming a chorus of advocates for government control over radio content. This is both chilling and ominous.
As a former president of the Harvard Law Review and a professor at the University of Chicago Law School, you are more familiar than most with the purpose of the Bill of Rights: to protect the citizen from the possible excesses of the federal government. The First Amendment says, in part, that "Congress shall make no law abridging the freedom of speech, or of the press." The government is explicitly prohibited from playing a role in refereeing among those who speak or seek to speak. We are, after all, dealing with political speech - which, as the Framers understood, cannot be left to the government to police.
READ MORE of Limbaugh's commentary HERE
Filed under: Larry King Live • Rush Limbaugh
February 2, 2009
Posted: 08:08 AM ET
by James Carville, Democratic strategist and political contributor for CNN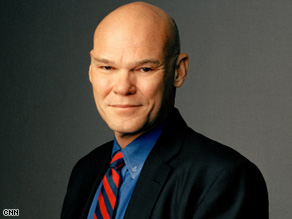 On Thursday, Rush Limbaugh, the moral and intellectual leader and most influential person in the Republican Party in the United States, wrote in the august op-ed pages of The Wall Street Journal, the acknowledged epicenter of right-wing thought, that President Obama should adopt a bipartisan solution to address the president's economic stimulus plan - or as Limbaugh refers to it, "porkulus."
Limbaugh proposes that because the Democrats got roughly 54 percent of the votes to the Republicans' 46 percent, the stimulus package should be allocated along his definition of ideological lines, i.e. 54 percent towards infrastructure improvement and 46 percent toward tax breaks for Limbaugh and his friends.
He writes, "Fifty-three percent of American voters voted for Barack Obama; 46% voted for John McCain, and 1% voted for wackos. Give that 1% to President Obama. Let's say the vote was 54% to 46%.
(Read the rest of Carville's commentary HERE!)
Filed under: James Carville • Rush Limbaugh
January 29, 2009
Posted: 09:14 AM ET
By Rush Limbaugh
There's a serious debate in this country as to how best to end the recession. The average recession will last five to 11 months; the average recovery will last six years. Recessions will end on their own if they're left alone. What can make the recession worse is the wrong kind of government intervention.
I believe the wrong kind is precisely what President Barack Obama has proposed. I don't believe his is a "stimulus plan" at all - I don't think it stimulates anything but the Democratic Party. This "porkulus" bill is designed to repair the Democratic Party's power losses from the 1990s forward, and to cement the party's majority power for decades.
Keynesian economists believe government spending on "shovel-ready" infrastructure projects - schools, roads, bridges - is the best way to stimulate our staggering economy. Supply-side economists make an equally persuasive case that tax cuts are the surest and quickest way to create permanent jobs and cause an economy to rebound. That happened under JFK, Ronald Reagan and George W. Bush. We know that when tax rates are cut in a recession, it brings an economy back.
(Read the rest of Rush's commentary HERE)
Filed under: Rush Limbaugh