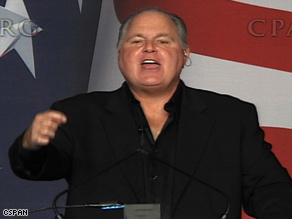 By David Frum, former speechwriter for President George W Bush
It wasn't a fight I went looking for. On March 3, the popular radio host Mark Levin opened his show with an outburst (he always opens his show with an outburst): "There are people who have somehow claimed the conservative mantle … You don't even know who they are … They're so irrelevant … It's time to name names …! The Canadian David Frum: where did this a-hole come from? … In the foxhole with other conservatives, you know what this jerk does? He keeps shooting us in the back … Hey, Frum: you're a putz."
Now, of course, Mark Levin knows perfectly well where I come from. We've known each other for years, had dinner together. I'm a conservative Republican, have been all my adult life. I volunteered for the Reagan campaign in 1980. I've attended every Republican convention since 1988. I was president of the Federalist Society chapter at my law school, worked on the editorial page of The Wall Street Journal and wrote speeches for President Bush—not the "Read My Lips" Bush, the "Axis of Evil" Bush. I served on the Giuliani campaign in 2008 and voted for John McCain in November. I supported the Iraq War and (although I feel kind of silly about it in retrospect) the impeachment of Bill Clinton. I could go on, but you get the idea.
I mention all this not because I expect you to be fascinated with my life story, but to establish some bona fides. In the conservative world, we have a tendency to dismiss unwelcome realities. When one of us looks up and murmurs, "Hey, guys, there seems to be an avalanche heading our way," the others tend to shrug and say, he's a "squish" or a RINO—Republican in Name Only.
Levin had been provoked by a blog entry I'd posted the day before on my site, NewMajority.com. Here's what I wrote: President Obama and Rush Limbaugh do not agree on much, but they share at least one thing: Both wish to see Rush anointed as the leader of the Republican party.
READ MORE of Frum's commentary HERE
Filed under: Rush Limbaugh