May 24, 2010
Posted: 09:28 AM ET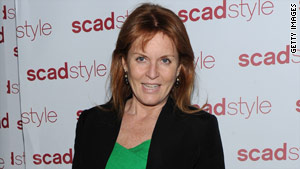 (CNN) - Britain's Prince Andrew Monday "categorically denied" knowing anything about his ex-wife's alleged offer to sell access to him after a British tabloid newspaper released what it says is a video of her doing so.
"The Duke of York categorically denies any knowledge of any meeting or conversation between the Duchess of York and the News of the World journalist," Buckingham Palace said, using alternate titles for Prince Andrew and Sarah Ferguson.
He has carried out his role as a British trade envoy since 2001 "with complete and absolute propriety and integrity," the palace said.
News of the World posted a video on its Web site Sunday that appears to show Ferguson accepting money from an undercover reporter in exchange for access to Prince Andrew.
Ferguson is also filmed on hidden camera telling the reporter - who was posing as a wealthy businessman - that a payment of £500,000 ($723,000) "opens doors" to Andrew.
She then shakes hands with the reporter after he accepts the deal.
In a statement issued Sunday, Ferguson apologized for the incident.
"I very deeply regret the situation and the embarrassment caused," the statement said. "It is true that my financial situation is under stress, however, that is no excuse for a serious lapse in judgment and I am very sorry that this has happened."
Filed under: Royals
November 23, 2009
Posted: 01:50 PM ET
Hello, I'm the Frog you've been seeing all summer long. I'm the one in all those Prince's Rainforest Project videos on YouTube. Yes I've been on Pele's famous foot, I've been caressed by Harrison Ford, I've been held aloft by the Dalai Lama, I've even been cuddled by Robin Williams.  Sir Richard Branson even tried to turn me into one of his beautiful red suited stewardesses.  That didn't turn out so well.
Why all the fuss hey? Well I'm in trouble. Yep, me and whole load of other species out here in the Rainforest.
You know everyone now seems to be aware of the impact cars, power stations and planes have on climate-changing pollution, but not so many know we have to keep our remaining rainforests alive- standing up- not being cut down.
This viral video created by the Prince's Rainforest Project (click here to watch it and you'll see me at the end) aims to fill the gap and mobilize public support for action.  It does a good job in delivering a powerful message while also allows the chance for everyone to make a positive difference.
Yes you too.
If enough people see the video and go to the website (rainforestsos.org) to signal their support for action, then perhaps world leaders will in the weeks ahead of Copenhagen be more persuaded to put in place some properly funded response to help the developing countries value their forests as worth more alive than dead.
Almost 15 million acres are cleared each year- causing billions of tons of carbon dioxide to be released. That's not good news. So please help a Frog in Need- Lend a Hand- well a click I guess- and watch this video, encourage others to watch it (all my frog friends have) and wait until the very end. The more people who see this, and act on it, the more likely it is that we'll get the response the world needs.
NOTE: OK, a Frog didn't really write this, but Kieran Baker did.  He's Executive Producer of the Viral Video Campaign for the Prince's Rainforests Project.
Filed under: Global Warming • Prince Charles • Royals
September 15, 2009
Posted: 07:51 AM ET
Britain's Prince Harry turned 25 Tuesday in the knowledge that he is now entitled to part of the multi-million dollar inheritance left to him by his late mother.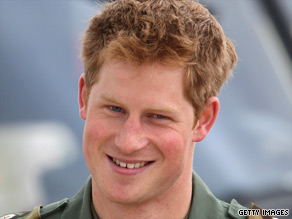 Harry was just 12 years old when Diana, Princess of Wales, was killed in a car crash in Paris in 1997.
His mother left an estate worth £21 million ($35 million), but more than £8 million ($13.31 million) was paid in inheritance tax, leaving around £13 million ($21.6 million) to be shared between Harry and his brother William, who is second in line to the throne, the British Press Association reported.
Much of that money is thought to have been invested but it is not known if the economic downturn has affected the amount.
Both princes are prevented from spending the lump sum of their inheritance until they turn 30. But Harry will pocket all income generated by his portion of the estate - around £300,000 ($500,000) a year.
Filed under: International • Royals