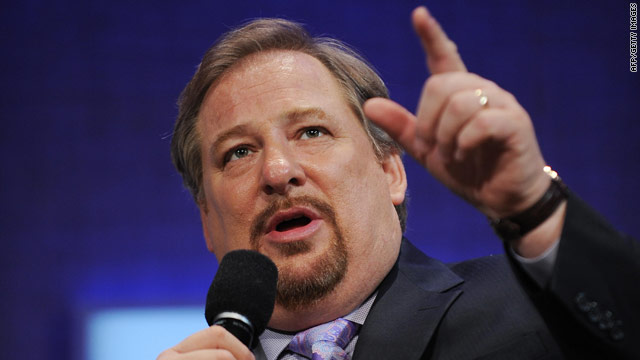 Megachurch pastor Rick Warren is home recovering after his eyes were burned as he pruned a firestick plant in his yard, his spokesman told CNN Thursday.
Warren was hospitalized Monday after the incident and released Tuesday, said his spokesman, A. Larry Ross. Warren is expected to make a full recovery, Ross said.
"My eyes were severely burned by a toxic poison," Warren wrote in a Twitter message Thursday morning. "Hospitalized Mon. Excruciating pain. Now home. Pray my sight loss is restored."
Though the pain was initially so intense that Warren could not open his eyes on Monday, he was seeing well enough Thursday to send the Tweet himself, Ross said. "The pain was excruciating – 12 on a scale of 1 through 10," Ross said. "It's now down to an 8."
Read more from CNN's Religion Blog
Filed under: Health • Religion • Rick Warren
Our guest last night on LKL was Pastor Rick Warren – we talked about a wide-range of issues, and here's a portion of the interview:
KING: The Obamas are searching, too, for a church, apparently in Washington. They don't have one. Do you think it's important for the public to see their leader go to church?
WARREN: I think it's important for the public to see our leaders having faith. I think it expresses a sense of humility that says, I recognize that I'm not the end all, be all. It's a good sense of humility and a declaration of dependence upon god. And there are - I could recommend a dozen really good churches in Washington D.C. area. I have a lot of pastor friends of all different styles. You tell me the style you want and I'll tell you a good church in Washington, D.C.
KING: An e-mail question from Mim in Myrtle Beach, South Carolina. "Are you a consultant to President Obama as Billy Graham was to previous presidents? Is that a role you would want?"
WARREN: No. In fact, I told the president that. I'm a friend and I'm a prayer partner, but I'm not a consultant. I'm not a pundit. And it's not my role to do that. My role is to help people in their personal lives. I have helped a lot of leaders, both locally and globally, with issues about family and issues about personal stress. That's a pastoral role. I'm a pastor, as you know, Larry. I'm not a politician and I'm not a pundit.
I care about each person individually, whether I happen to agree with them or not. We all have the same basic needs. We all want to be loved. We all want to have a place of service. We all want our lives to count. We all want to know our purpose in life. These are things that everybody deals with.
Filed under: Larry King Live • Rick Warren