January 19, 2009
Posted: 09:55 AM ET
by President-elect Barack Obama
On the day of the first inauguration to take place in this city, a small band of citizens gathered to watch Thomas Jefferson assume office. Our young and fragile democracy had barely finished a long and contentious election that tested our founding ideals, and there were those who feared our union might not endure.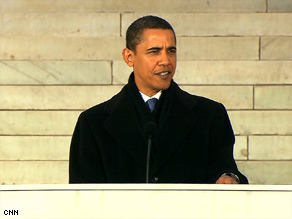 It was a perilous moment. But Jefferson announced that while we may differ in opinion, we all share the same principles. "Let us, then, fellow citizens, unite with one heart and one mind," he said, urging those assembled to begin anew the work of building a nation.
In the more than two centuries since, inaugurations have taken place during times of war and peace, depression and prosperity. Beneath the unfinished dome of the Capitol, a young lawyer from Illinois swore an oath to defend the Constitution a divided nation threatened to tear apart. In an era of unprecedented crisis, an optimistic New Yorker refused to allow us to succumb to fear. In a time of great change, a young man from Massachusetts convinced us to think anew with regard to serving our fellow man.
(Read the rest of the commentary HERE)
Filed under: Inauguration • President-Elect Obama
January 18, 2009
Posted: 11:50 AM ET
Barack Obama's inaugural address could be one of the most eagerly anticipated speeches ever given. As the world awaits his words on Tuesday, the speculation is rife: Will he be as eloquent as Lincoln? Can he match the oratory of JFK? Or even of Ronald Reagan?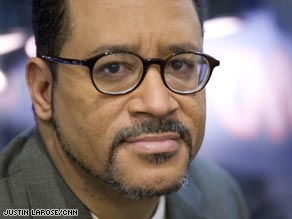 But to understand what Obama does with language - how words crackle and sentences simmer, or sing, in his mouth - you can't just turn to theories of rhetoric or listen to other gifted presidential communicators. You have to get a feel for black speech, whose best rhetoricians marry style and substance to spawn a uniquely earthy eloquence.
I expect Obama's inaugural address to reflect this speech in full, the kind of speech he heard for years from black preachers in the church pulpit. Because as much praise as he has justly received for speaking in a way that doesn't assault the white eardrum or worldview, his rhetoric is firmly rooted in black soil.
(Read the rest of Dyson's column HERE)
Michael Eric Dyson is a University Professor of Sociology at Georgetown University, and author of 16 books, including the New York Times bestseller, "April 4, 1968: Martin Luther King, Jr.'s Death and How it Changed America."
Filed under: Inauguration • Michael Eric Dyson • President-Elect Obama
Posted: 09:44 AM ET
We are having a special live Sunday show tonight from DC!!  We'll be talking about the preparations for the inaugurations, as well as checking in at some of the pre-inauguration festivities.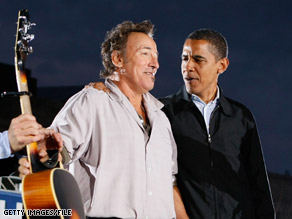 Dozens of major celebrities will perform on several nationally televised shows, as well as 10 inaugural balls the evening after Obama is sworn in as the 44th U.S. president.
The celebration will open Sunday evening on the steps of the Lincoln Memorial with a free concert so star-studded it's hard to choose a headliner.
Beyonce, Bono and Bruce Springsteen are on the list.
Other musical performers include Mary J. Blige, Garth Brooks, Sheryl Crow, Renee Fleming, Josh Groban, Herbie Hancock, Heather Headley, John Legend, Jennifer Nettles, John Mellencamp, Usher Raymond IV, Shakira, James Taylor, will.i.am, and Stevie Wonder.
UPDATED:  Here's a great story on how DC's social scene will be changing with the incoming administration – Read it HERE
Filed under: Inauguration • Larry King Live • President-Elect Obama
January 15, 2009
Posted: 11:23 AM ET
By Karl Rove
On Tuesday, America can take pride in a special transfer of power as Barack Obama becomes the first African-American to be sworn in as president.
Shortly after the ceremony, the new president's aides will slip away to inspect the offices they now inhabit. They've put much of their lives on hold to take jobs that will last, for most, two or three years. Hours will be long, pressure unrelenting, decisions momentous, and families often neglected. Every American should respect their sacrifices.
What these aides will soon realize is that they aren't history, but passing through it. I learned that from an elderly man who told me "to honor the house" as he emptied my trash bin late my first day at work.
Filed under: Karl Rove • President-Elect Obama