April 23, 2010
Posted: 09:37 AM ET
In a week that started with President Obama travelling west to California for a night of fundraising to New York City to take on financial reform, there have been a few political stories that have gone unnoticed.
So in case you missed them, here are some from this week you MAY have missed.
For some reason, a lot have to do with food.
1. The "Schumwich" – Senator Chuck Schumer's (D-NY) staff has dubbed his favorite lunch bite, and it is one you HAVE to check out.  Onions, peppers, pickles and more.  You've got to see it to believe it. (NYPost)
2. Six years ago, actor Tom Hanks visited with the press at the White House and noticed they did not have a good coffee machine, so he bought them one.  Last month, he returned to the White House and promised the press corps a new one.  It arrived this week. (WHC Insider)
3. Remember Crawford, Texas?  Former President Bush still has his ranch there, but apparently a lot of the businesses have closed.  The president's last trip was back in July, and he got a burger and jalapeno fries while he was there.  Sorry, no picture of those. (NY Times)
4. Either Harold or Kumar got mugged outside the White House.  Kal Penn, who currently works in the Office of Public Liaison at the White House was robbed at gunpoint.  No word on whether he was heading to a White Castle or not.
Posted by: LKL Producer Hunter Waters
Filed under: Politics is King • President Bush • Tom Hanks
August 13, 2009
Posted: 01:45 PM ET
By Barton Gellman / WashingtonPost.com
In his first few months after leaving office, former vice president Richard B. Cheney threw himself into public combat against the "far left" agenda of the new commander in chief. More private reflections, as his memoir takes shape in slashing longhand on legal pads, have opened a second front against Cheney's White House partner of eight years, George W. Bush.
Cheney's disappointment with the former president surfaced recently in one of the informal conversations he is holding to discuss the book with authors, diplomats, policy experts and past colleagues. By habit, he listens more than he talks, but Cheney broke form when asked about his regrets.
"In the second term, he felt Bush was moving away from him," said a participant in the recent gathering, describing Cheney's reply. "He said Bush was shackled by the public reaction and the criticism he took. Bush was more malleable to that. The implication was that Bush had gone soft on him, or rather Bush had hardened against Cheney's advice. He'd showed an independence that Cheney didn't see coming. It was clear that Cheney's doctrine was cast-iron strength at all times - never apologize, never explain - and Bush moved toward the conciliatory."
The two men maintain respectful ties, speaking on the telephone now and then, though aides to both said they were never quite friends. But there is a sting in Cheney's critique, because he views concessions to public sentiment as moral weakness. After years of praising Bush as a man of resolve, Cheney now intimates that the former president turned out to be more like an ordinary politician in the end.
Cheney's post-White House career is as singular as his vice presidency, a position he transformed into the hub of power. Drained of direct authority and cast aside by much of the public, he is no less urgently focused, friends and family members said, on shaping events.
Filed under: Politics is King • President Bush
February 25, 2009
Posted: 09:19 AM ET
George W Bush will embark next month on an international speaking tour aimed at making him hundreds of thousands of dollars and reshaping his battered image abroad.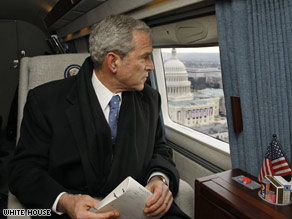 The former president plans to make about ten speeches over the next year — the first of what he hopes will be many more — at various venues in the US, Canada, Europe and Asia.
Mr Bush promised at his final news conference that he would keep busy as soon as he left office. He is also working on a book about his eight tumultuous years in the White House and his presidential institute. Its central theme will be liberty.
He will deliver his first speech on March 17 in Calgary, Canada. It will be held in a convention centre before a mostly business audience, and the press will not be allowed to attend. The brochure promoting it reads: "President during a period of great consequence, George W Bush shares thoughts on his eight momentous years in the Oval Office and discusses the challenges facing the world in the 21st century."
Filed under: President Bush
January 22, 2009
Posted: 10:40 AM ET
By Karl Rove, former senior adviser and deputy chief of staff to President George Bush.
Its call sign has always been Air Force One. But on Tuesday, it was Special Air Mission 28000, as former President George W. Bush and his wife Laura returned home to Texas on a plane full of family, friends, former staff and memories of eight years in the White House.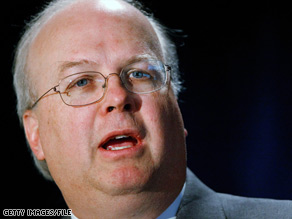 The former president and his wife thanked each passenger, showing the thoughtfulness and grace so characteristic of this wonderful American family.
A video tribute produced warm laughter and inevitable tears. There was no bitterness, but rather a sense of gratitude - gratitude for the opportunity to serve, for able and loyal colleagues, and above all for our country and its people.
Yet, as Mr. Bush left Washington, in a last angry frenzy his critics again distorted his record, maligned his character and repeated untruths about his years in the Oval Office. Nothing they wrote or said changes the essential facts.
To start with, Mr. Bush was right about Iraq. The world is safer without Saddam Hussein in power. And the former president was right to change strategy and surge more U.S. troops.
(Read the rest of Rove's commentary HERE)
Filed under: Iraq • Karl Rove • President Bush
January 19, 2009
Posted: 10:28 AM ET
As the clock ticks down on his presidency, George W. Bush has shown few signs he plans to indulge in the frenzy of last-minute pardons that marked Bill Clinton's final hours in the Oval Office.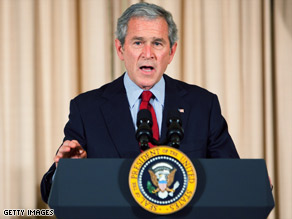 But Bush could quickly leap back into the spotlight in the next two days if he issues a blanket pardon immunizing CIA and military interrogators, as well as their bosses, from criminal prosecution over harsh treatment of prisoners from the war on terror.
Bush is also facing pressure from conservative allies, who see pardons of former Bush administration officials and some others as a more realistic possibility. At the top of their lists: Dick Cheney's former chief of staff, I. Lewis "Scooter" Libby and former Attorney General Alberto Gonzales, still under investigation for his role in a series of U.S. attorney firings.
(Here's the top 10 list of possible pardons to look out for)
**UPDATED: On his final full day in office, President Bush issued commutations for two former border patrol agents convicted in 2006 of shooting an undocumented immigrant who was smuggling drugs at the time – READ ABOUT IT HERE
Filed under: Larry King Live • President Bush
January 15, 2009
Posted: 09:53 AM ET
President George W. Bush is putting the finishing touches on a farewell speech that will be given tonight at 8pm eastern.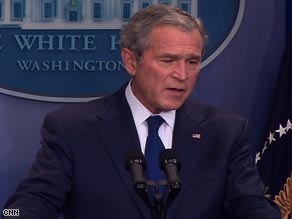 It is more than a goodbye to the nation that elected him twice. It is his last chance in office to define his tumultuous presidency in his own, unfiltered terms – a mission that will keep his fire burning even after he fades off to a quieter life.
Bush will say goodbye to the country Thursday night. He will follow the script of Presidents Bill Clinton and Ronald Reagan and Jimmy Carter and many before them: Express thanks to the country and pride in the honor of serving, wish the next president well and outline what he considers to be the biggest challenges ahead. In a sense, the goodbye address will underscore the competing accounts of his presidency one last time as his loyal backers and his critics see his record in different ways.
Filed under: Larry King Live • President Bush
January 13, 2009
Posted: 03:46 PM ET
Just one week before an historic inauguration, President and Mrs. Laura Bush look back at eight years in The White House!
And at what's ahead for the Obama administration!  Larry interviews the first couple from The White House Library, tonight on "Larry King Live," 9 p.m., ET.
Post your comment HERE!
Filed under: Larry King Live • Laura Bush • President Bush