December 22, 2009
Posted: 01:23 PM ET
(CNN) - The recent passing of actress Brittany Murphy adds another high-profile name to the list of those who have died in 2009.
The year seems to have been filled with an inordinate amount of high-profile deaths - some even on the same day.
Among those who passed: Michael Jackson, Farrah Fawcett, Natasha Richardson, Bea Arthur, Dom DeLuise, Karl Malden, David Carradine, Patrick Swayze, John Hughes, Ed McMahon, Walter Cronkite and Don Hewitt.
Authors John Updike, Frank McCourt and Dominick Dunne died, as did blues legend Koko Taylor, Ventures guitarist Bob Bogle, Mary Travers of Peter, Paul & Mary, guitar innovator Les Paul and Adam "DJ AM" Goldstein.
In sports, NFL players Steve McNair and Chris Henry died as did veteran basketball coach Chuck Daly.The politcal world mourned the loss of Sen. Edward Kennedy, and former U.S. Housing Secretary Jack Kemp.
Even celebrity pitch personalities weren't immune as 2009 also saw the passing of Oxiclean pitchman Billy Mays and Gidget, the chihuahua best known for hawking Taco Bell.
But was 2009 any more notable for celebrity deaths than other years? Or, in our hyper-caffeinated, overly Twittered culture, is there simply more awareness?
Filed under: Don Hewitt • Ed McMahon • Kennedy • Michael Jackson • Patrick Swayze • Walter Cronkite
November 21, 2009
Posted: 10:22 AM ET
NOTE: Tonight on LKL, a very special interview with Lisa Niemi, Patrick Swayze's wife, and his brother Donny Swayze.
And we want to hear from you: What are your favorite Patrick Swayze memories.  Post them HERE or below, and we'll use them on the show tonight.
Julie Fleshman is President and CEO of the Pancreatic Cancer Action Network.  In this LKL Web Exclusive, she offers her thoughts on the death of Patrick Swayze.
Patrick Swayze was a shining star in Hollywood darkened much too soon by pancreatic cancer.  On behalf of the Pancreatic Cancer Action Network, I offer my sincere condolences to his wife, Lisa, the Swayze family and his millions of fans around the world. He will be truly missed.
Mr. Swayze increased awareness of the fourth leading cause of cancer death in the United States by speaking out publicly about his diagnosis.  His surprise appearance in September 2008 at the Stand Up to Cancer telethon and his unabashed interview with Barbara Walters in January 2009 left us in awe as he vowed to fight this disease. He exuded an impassioned sense of hope, and a true belief that he would make it long enough to find a cure.
He was a beacon of hope for the entire pancreatic cancer community, and for nearly two years his fighting spirit helped him to beat the odds that were clearly stacked against him. In fact, 76% of patients die within the first year of diagnosis and the five year survival rate is just 5% because there are no effective early detection tools or treatments for this disease. Despite these statistics, pancreatic cancer is the least funded among leading cancer killers in our country.
Mr. Swayze made a difference in the fight against pancreatic cancer and you can too. Join the Pancreatic Cancer Action Network (www.pancan.org) and take action to ensure progress is made to give pancreatic cancer patients a fighting chance.  Your help is critical now more than ever because the pancreatic cancer incidence is projected to increase by 12% in 2009 and by 55% by 2030.
If you or someone you know is facing pancreatic cancer please have them contact the Pancreatic Cancer Action Network at 877-272-6226.  The Pancreatic Cancer Action Network is the only national organization creating hope in a comprehensive way through research, patient support, community outreach and advocacy for a cure.  Please join us today.
Julie Fleshman, JD, MBA
President & CEO
Pancreatic Cancer Action Network
Filed under: LKL Web Exclusive • Patrick Swayze
October 23, 2009
Posted: 12:22 PM ET
Patrick Swayze's widow will be speaking out for the first time since her beloved husband passed away almost six weeks ago.
Lisa Niemi is scheduled to appear on Tuesday at The Women's Conference in Long Beach, CA where she will join a round table discussion with Susan St. James and Elizabeth Edwards. The topic will be Grief, Healing and Resilience.
The annual conference will be hosted by Maria Shriver and her husband, Gov. Arnold Schwarzenegger.
The Women's Conference will stream live at 8 a.m. PST on October 27 at www.WomensConference.org
Filed under: Patrick Swayze
September 17, 2009
Posted: 03:08 AM ET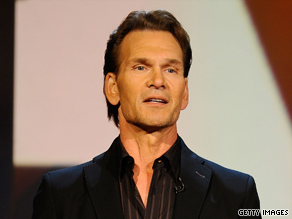 In "The Time of My Life," his posthumously published memoir, Patrick Swayze reveals how he first got the devastating news 20 months ago that he had pancreatic cancer. The actor, who died Monday at 57, co-wrote the book with his wife Lisa Niemi. Excerpts will appear in the new issue of People magazine, out tomorrow.
"I had been having some digestive trouble, mostly acid reflux and a kind of bloated feeling, for a few weeks," Swayze writes in the book, which will be released Sept. 29. "I've had a sensitive stomach my whole life, so I hadn't thought much of it, but lately I just couldn't shake the constant discomfort."
Swayze knew what he was facing. "My doctor told me my chances of surviving for more than a few months weren't high," he writes, "and I had no reason to doubt him."
Filed under: Larry King Live • Patrick Swayze
September 16, 2009
Posted: 01:14 PM ET
Dancing with the Stars will honor Patrick Swayze on its Sept. 23 live results show, PEOPLE has learned exclusively.
"We have some very fond memories of [the late actor] coming to help us our when we were a tiny little show way back when," Dancing's executive producer Conrad Green says.
Swayze, who died of pancreatic cancer on Monday at the age of 57, made a guest appearance on Dancing's inaugural U.S. season in 2005, teaching friend and fellow actor John O'Hurley a few dance moves in rehearsal. He also came to the show and supported O'Hurley by attending the season 1 finale.
"He was one of the few people to integrate dance with being an A-list actor," Green says. "He inspired many people and many of our pros to dance. We want to honor the great moments he's brought to film by getting our dancers to do their interpretation to some music from his films."
Filed under: Dancing With The Stars • Patrick Swayze
September 15, 2009
Posted: 12:06 AM ET
By Brenda Rodriguez via People.com
Patrick Swayze promised to never put Baby in a corner. That signature line – and the sultry dance steps and smoldering chemistry between him and costar Jennifer Grey – rocketed the two young actors to stardom in 1987 with Dirty Dancing.
"When I think of him, I think of being in his arms when we were kids, dancing, practicing the lift in the freezing lake, having a blast doing this tiny little movie we thought no one would ever see," Grey, who played Frances "Baby" Houseman, remembers of Swayze, who died at age 57 Monday after a long battle with pancreatic cancer.
Grey, 49, says Swayze was a "real cowboy with a tender heart," who was so fearless doing his own stunts that "it was not surprising to me that the war he waged on his cancer was so courageous and dignified."
T0 see Life's tribute photos of Patrick Swayze, click here.
Filed under: Entertainment • Larry King Live • Patrick Swayze
September 14, 2009
Posted: 10:37 PM ET
Note: we will be remembering Patrick Swayze Tuesday night on a special Larry King Live.
LOS ANGELES, California (CNN) - Patrick Swayze, whose good looks and sympathetic performances in films such as "Dirty Dancing" and "Ghost" made him a romantic idol to millions, died Monday. He was 57.
Swayze died of pancreatic cancer, his publicist, Annett Wolf, told CNN.
Swayze's doctor, Dr. George Fisher, revealed in early March 2008 that Swayze was suffering from the disease.
"Patrick Swayze passed away peacefully today with family at his side after facing the challenges of his illness for the last 20 months," Wolf said in a statement Monday.
Most recently, Swayze starred in A&E Network's "The Beast," which debuted in January. He agreed to take the starring role of an undercover FBI agent before his diagnosis.
The network agreed to shoot an entire season of the show after Swayze responded well to his cancer treatment
Filed under: Patrick Swayze