March 7, 2010
Posted: 05:30 PM ET
[cnn-photo-caption image=http://i2.cdn.turner.com/cnn/2010/images/02/22/dalai2.jpg caption="GETTY IMAGES"]
After his controversial meeting with President Obama, the Dalai Lama talks to Larry! Get his thoughts on China….human rights…Haiti…and more!
Plus, Akio Toyoda, the president and CEO of Toyota Motor Corporation!
We want to hear from you...
Do YOU think President Obama should have met with the Dalai Lama?
Filed under: Dalai Lama • Olympics • Politics
March 1, 2010
Posted: 07:00 PM ET
Funeral services were held today for the SeaWorld trainer killed by a killer whale. Animal expert Jack Hanna and the former head trainer at SeaWorld Orlando weigh in on the controversy over how she died.
[cnn-photo-caption image=http://i2.cdn.turner.com/cnn/2010/images/03/01/seaworld.jpg
caption=""]
The attack also raises questions on animals in captivity. Animal rights activists Daryl Hannah and Tippi Hedren join the debate. Plus, the man who trained ALL of the dolphins on the TV show 'Flipper'! Why he now fights for their freedom!
And, Chile has deployed 10,000 troops to battle looters and restore order in the earthquake-ravaged country. Larry has the latest!
Also, Olympians! Figure skater Johnny Weir and skiing silver medalist Julia Mancuso!
Do YOU think whales should be held in captivity?
Filed under: Larry King Live • Olympics
February 24, 2010
Posted: 12:47 PM ET
February 23, 2010
Posted: 08:11 PM ET
[cnn-photo-caption image=http://i2.cdn.turner.com/cnn/2010/images/02/23/story_koeing_andrew_split_from.jpg caption=""]
The latest on the search for the former 'Growing Pains' star who has been missing over a week. His sister and a longtime friend sit down with Larry. Do they suspect foul play?
And, last night Larry talked to Shaun White. Tonight he talks to another Olympic champion... Evan Lysacek! He's the first American to win gold in men's figure skating in over two decades!
Plus, Gov. Tim Pawlenty and Gov. Bill Richardson debate the future of American politics. Can both parties work together to get things done?
Do YOU think our government is broken beyond repair?
Let us know!
Filed under: Larry King Live • Olympics • Politics
Posted: 11:55 AM ET
February 22, 2010
Posted: 09:07 AM ET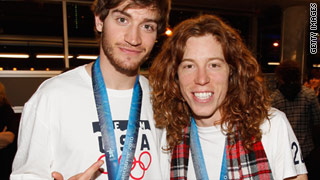 Bronze medalist Scott Lago apologized to U.S. officials and volunteered to leave the Olympic Games after racy pictures of him, his medal and a female fan showed up on the Internet, a spokesman for the U.S. ski and snowboard team confirmed Saturday.
Lago, from Seabrook, New Hampshire, finished third in Wednesday night's snowboard halfpipe event. It was his first trip to the Olympics.
On Friday morning, the gossip Web site TMZ.com published two pictures of Lago. In one, the unidentified fan is kissing the medal while it hangs just below the waistline of Lago's pants. In the second, she is biting down on the medal, which is around Lago's neck, as teammate Greg Bretz looks on. It is unclear when the photos were taken.
U.S. Ski and Snowboard Association President and CEO Bill Marolt said Lago had apologized to the U.S. Olympic Committee and the U.S. snowboard federation, and left Canada.
"Scotty Lago is a great athlete, but with that comes a responsibility of proper conduct and his involvement in this situation is not acceptable," Marolt said in a written statement.
"Scotty realizes his conduct was inappropriate. He has formally apologized and also made a decision to leave Vancouver today."
He was not entered to compete in any remaining events. Lago could not be reached for comment Saturday.
**NOTE** Olympic Gold medalist SHAUN WHITE will join us LIVE tonight at 9pmeastern/6pmpacific – what do you want to hear from him??
Filed under: Olympics