February 25, 2009
Posted: 11:35 AM ET
 Dr. Phil McGraw didn't hold back in a recent interview of octuplets mom Nadya Suleman and her mother, Angela Suleman.
The talk show host had straight talk for Nadya about her having octuplets when she already had six young kids, and about the challenges ahead of her.
McGraw says he thinks Suleman is "a very confused young woman. I think, clearly, she is a loving mother. I think she has good intentions, but I think her ability and willingness to grasp the gravity of what's happened here is just really limited.
"My problem with her, which I made very clear to her, is not that she went and had eight babies, but that she went and even tried to have one more child. When you have six that you can't provide for, when have you six that you can't pay for and you go down intentionally to have a seventh baby, let alone ... up through 14, then that just doesn't make sense, and that's what I told her. And I think she eventually began to get that, but now she's in this situation, and what does she do about it?
Filed under: Dr. Phil McGraw • Octuplets
February 20, 2009
Posted: 10:45 AM ET
From whence sprang Octomom...
The father of octuplet spawner Nadya Suleman questioned his own daughter's sanity and agreed that she needs major help—financially, at least—during a recent sit-down with Oprah Winfrey.
"That's a very good question," responded Ed Doud, Suleman's dad and a grandfather of 14, when the queen of daytime asked whether his daughter is mentally stable.
"Now I'm no psychiatrist, but I question her mental situation," he said, adding that both his daughter and her fertility doctor were "absolutely irresponsible" to allow her to become that pregnant.
Suleman, 33, who already had six children (three of whom have special needs), gave birth to octuplets Jan. 26 in Bellflower, Calif., after undergoing in vitro fertilization.
Filed under: Larry King Live • Octuplets
Posted: 08:07 AM ET
Dr. Jane Miller remembers the first - and the last - time she implanted four embryos into a patient getting in-vitro fertilization.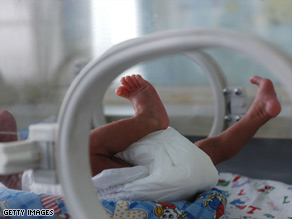 "It was 1999, and we got triplets, and I said, 'My God, never again,' " remembers the fertility expert in Englewood Cliffs, New Jersey. "The human uterus is meant to carry only one at a time."
Since then, Miller says, she implants only one or two embryos; on "very, very rare" occasions she'll implant three. When she heard Nadya Suleman, the mother of octuplets in California, say her doctor had implanted six embryos, she was outraged.
Miller is not alone. Fertility experts around the country say there's never a reason to implant six embryos. It's risky, and it's way outside the scope of normal practice: Data from the Centers for Disease Control show that on average, fertility doctors implant 2.3 embryos into women under age 35.
Why, then, did Suleman's doctor implant so many embryos?   READ MORE HERE
Filed under: Octuplets
February 19, 2009
Posted: 12:12 PM ET
Note: The entire Duggar family (all 20 of them) will be on LKL tonight!! This is a LKL Blog Exclusive commentary by them:
Raising a family today can be very expensive. Given the fact that our family is five times the size of a family of four, we are constantly looking for creative ways to save money. Here are some tips we have learned along life's way to help trim household expenses.
1. Our family motto is "buy used and save the difference!" We shop at thrift stores, pawn shops, auctions and garage sales for items such as clothing, furniture, appliances and vehicles at wholesale prices. For example, we bought a 21 passenger shuttle bus for $2100 on a sealed bid auction and have used it for several years to transport the family. We have never bought a new vehicle.
2. We always negotiate to get the best buy on large ticket items or items we buy in large quantities. The key is to ask a decision maker (like a manager), since they have the authority to make the deals. We also try not to use credit, since cash buyers get a better price!
3. We buy food by the case at stores that don't have the frills, but offer the same quality at a lower price.
4. Our daughters have learned how to cut and style hair for family savings.
5. We make our own homemade baby wipes with the following recipe:
Ingredients: One roll of Bounty paper towels, one-gallon ice-cream bucket, (clean and empty), two cups water, two tablespoons baby oil, one tablespoon rubbing alcohol and one tablespoon baby bath (optional).
•Cut a whole roll of Bounty paper towels into thirds (we've found that Bounty is the only brand that works. Use an electric knife for best results).
•Place one of the halved rolls vertically into an empty and thoroughly cleaned one-gallon ice cream bucket. In a large measuring pitcher, mix two cups water, two tablespoons baby oil, and one tablespoon rubbing alcohol (some families also like to add a tablespoon of baby bath).
•Pour the liquid over the halved roll of paper towels in the ice cream bucket, and soak for 30 minutes. Remove the cardboard center. Feed the top corner of the paper towels through an X-shaped slit you've cut in the lid of the ice-cream bucket so you can pull out and tear off one "wipe" at a time.
Check out TLC.com or our website at duggarfamily.com for more money saving tips. Good luck!
Filed under: Duggar Family • Larry King Live • Octuplets
Posted: 08:10 AM ET
The California home where Nadya Suleman plans to raise her 14 children is at risk of foreclosure, CNN affiliate KTLA reported Wednesday.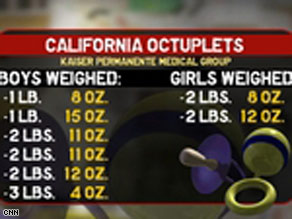 Los Angeles County property records show a notice of mortgage default was filed Feb. 9 against the home of Suleman's mother, Angela Suleman, the station reported.
Angela Suleman is $23,225 behind in her mortgage payments and the three-bedroom house could be sold at an auction beginning May 5, documents say.
Suleman has said that she was raising her six children in her mother's home and planned to raise her newborn octuplets there.
Filed under: Octuplets
February 18, 2009
Posted: 09:28 AM ET
acing public outrage over revelations that she supports her family with the help of food stamps and claims that she is fixated with Angelina Jolie, Nadya Suleman tells PEOPLE that she's turning to "a greater strength" to cope with her sudden notoriety.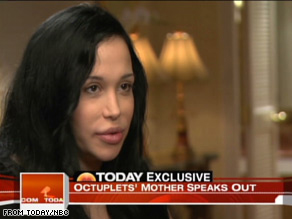 The California mother of octuplets says she hopes the media frenzy will soon die out and allow her to focus on raising her eight new babies, born Jan. 26, along with her six older children. "Next week it will be okay," she tells PEOPLE, peering outside at a group of reporters camped in front of her Whittier, Calif., home. "No one will be out there, I'm hoping." 
Suleman also rejected claims that she is obsessed with Jolie. "All lies. I have no interest in her. None," she says. "I've never been a fan of anybody famous. Now I kinda have a taste. But it's not being famous – it's being infamous. It's a nightmare." 
Filed under: Octuplets
February 12, 2009
Posted: 08:54 AM ET
Nadya Suleman, the single mother of newborn octuplets, is using the Internet to help support her family of 14 children. She's started a Web site seeking donations.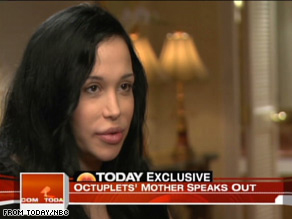 The Web site features pictures of a rainbow, child's blocks and all eight of Suleman's newborns. Also prominently displayed on the Web site is a prompt for visitors to make a donation, noting that the "proud mother of 14" accepts Visa, MasterCard, American Express, Discover and PayPal.
Suleman, 33, had the octuplets through fertility treatments, despite already having six young children and no clear source of income.
Filed under: Octuplets