March 11, 2010
Posted: 05:12 PM ET
By Malcolm Moore
via Telegraph.co.uk
Kim Jong Ryul, 75, has spent the last 16 years in exile in Austria after fleeing North Korea and still fears for his life. In a new book, At the Dictator's Service, he recounts the luxury in which North Korea's leaders live.
Using the code name Emil, Kim travelled through Europe on a diplomatic passport and with a suitcase full of cash, procuring cars, planes, guns and special food for both Kim Il-sung and his son, Kim Jong-il.
The goods and money would be channelled through Vienna, to take advantage of banking secrecy, lax trade rules and minimal checks on aircraft.
Mr Kim said the North Korean leaders had dozens of villas, some of which were built underground, that were stuffed with chandeliers, silk wallpaper and expensive furniture. He said some of the villas were equipped with special ventilation systems in case of a nuclear attack.
He said Kim Il-sung would "only eat foreign food". He added: "In Vienna, there was a special attache, a friend of mine, who only procured special foreign food for the dictator." Troupes of chefs would be sent from North Korea to Austria to study how to cook.
Filed under: International • North Korea
August 5, 2009
Posted: 08:01 PM ET
Posted: 10:26 AM ET
August 4, 2009
Posted: 07:51 AM ET
Former U.S. President Bill Clinton landed in North Korea early Tuesday on a mission to negotiate the release of two American journalists imprisoned there since March, according to the country's state news agency and a CNN source.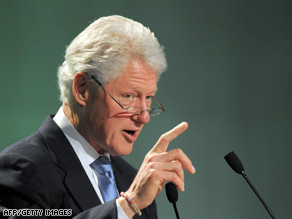 The North Korean news agency KCNA did not disclose the purpose of the visit in its three-line dispatch. But a source with detailed knowledge of the former president's movements told CNN late Monday that Clinton was going to seek the release of Laura Ling and Euna Lee, both reporters for California-based Current TV - media venture launched by Clinton's former vice president, Al Gore.
Meeting Clinton were the vice president of North Korea's Supreme People's Assembly, Yang Hyong Sop, and Kim Kye Gwan, the vice foreign minister, KCNA reported, adding that "a little girl presented a bouquet to Bill Clinton."
NOTE: Laura Ling's husband, Iain Clayton, was on LKL back in May and wrote this EXCLUSIVE LKL WEB COMMENTARY for us – read it HERE
Filed under: Bill Clinton • International • North Korea
June 16, 2009
Posted: 10:02 AM ET
North Korea's state media released a "detailed report" Tuesday claiming that American journalists Laura Ling and Euna Lee entered the country illegally in order to record material for a "smear campaign" against the reclusive communist state.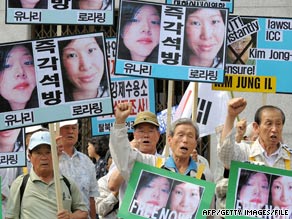 It added that the two women "admitted that what they did were criminal acts ... prompted by the political motive to isolate and stifle the socialist system of the DPRK by faking up moving images aimed at falsifying its human rights performance and hurling slanders and calumnies at it."
Ling and Lee were sentenced this month to 12 years of hard labor in North Korea.
They were arrested in March for "having illegally trespassed into the border of the DPRK [Democratic People's Republic of Korea, as North Korea is officially known] and committed hostile acts against it for which they were tried."
President Obama is meeting Tuesday with South Korean President Lee Myung-bak at the White House, and the jailing of Ling and Lee "could come up," White House officials told CNN. Relations between North and South Korea are extremely tense.
The reporters for California-based Current TV - a media venture of former U.S. Vice President Al Gore - were arrested while reporting on the border between North Korea and China. They were sentenced after a closed-door trial.
Filed under: International • North Korea
June 9, 2009
Posted: 12:03 PM ET
Laura Ling and Euna Lee, the American journalists who were each handed 12 years in prison yesterday by a North Korean court for committing "hostile acts" by allegedly overstepping the border in March, have received a harsh sentence by western standards of justice. The news is grim, to be sure. But former prisoners in Pyongyang's horrific penal system speculate that the pair may not have to endure the grimmest conditions, which very few have emerged to talk about.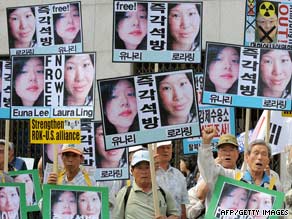 Some say the same whims that informed their long sentence could work in the favor of Ling and Lee, who were reporting for Al Gore's Current TV when they were detained. North Korean activists like Seoul-based Kim Sang Hun, who has interviewed nearly two dozen former prisoners, says that the journalists "won't see the real conditions" in the North's prison system because even Pyongyang knows the situation in the country's penal system is something to be ashamed of – a humiliating condition that the Americans would only bear witness to once they were released. Kim thinks the journalists probably will not endure corporal punishment, and could, in fact, be out of North Korea soon, depending on the political climate between Pyongyang and Washington. "There's no rule of law, so the sentence is meaningless," says Kim.
The Americans are likely to be separated from the general prison population and may be secluded from the true hardships of penitentiatry life. That doesn't mean it will be easy. North Korea's prisons and camps are scary places, the horrors of which are gradually becoming known to the world. Indeed, Kim and others believe that while the two women will be treated differently, they will still probably be sent to a "regular" prison – called a kyohwaso, or reformatory – rather than a prison for political prisoners, where conditions are relatively better. Kyohwaso life is extremely harsh: scholars estimate only 50% of prisoners survive their first year. One of the first accounts of the North Korean prison system, a 2000 memoir called The Aquariums of Pyongyang, tells of routine torture and deprivations on par with Nazi concentration camps. The book's author, Kang Chol Hwan, was imprisoned in Yodok concentration camp at the age of 9 for 10 years with his family, where he suffered starvation, disease and was forced to attend public executions. "I attended some 15 executions during my time in Yodok," he wrote. Kang was imprisoned at the camp because his grandfather had been sentenced for suspicious behavior. "It's guilt by association," says Tim Peters, a Christian activist living in South Korea who has helped numerous North Korean defectors find safe havens in other countries.
Filed under: International • Justice • North Korea
Posted: 11:47 AM ET
The eldest son of North Korean leader Kim Jong Il, in a rare television interview Tuesday, shed some light on who might eventually take over leadership of the country.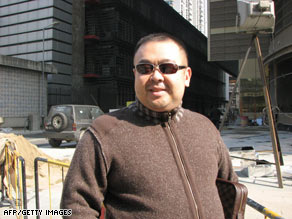 Kim Jong Nam told TV Asahi in Macau that he does not care about politics or succeeding his father.
"Personally, I am not interested in this issue (succession)," he said in an interview with the Japanese television network. "Sorry, I am not interested in the politics."
The rules governing transfer of power in the secretive communist nation are unclear.
Kim Jong Il is widely reported to have suffered a stroke in August and has been absent from many public functions in recent months.
In April, he named his son, Kim Jong Un, and brother-in-law, Jang Song Thaek, to the country's powerful National Defense Commission, suggesting his third son may be his heir.
Filed under: International • North Korea