June 18, 2010
Posted: 07:53 AM ET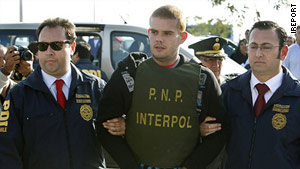 Aruban authorities are urging Natalee Holloway's father, Dave Holloway, to delay volunteer search efforts in her disappearance until police get better information on the case from Peruvian investigators who have spoken to Joran van der Sloot, prosecutor Peter Blanken said.
Police do not want their investigation jeopardized or possible evidence contaminated in the Bubali Bird Sanctuary, a swamp area where Joran once said he dumped Holloway's body, Blanken said. Aruban authorities wish to search a more focused area once they receive more information from van der Sloot and his laptop, which may include files linking him to the Holloway disappearance.
Earlier, Blanken said investigators from Aruba would not be able to question van der Sloot until Peruvian authorities finish their probe of the May 30 slaying of Stephany Flores. The formalities of Peruvian law also will determine the time frame, the prosecutor said.
Aruban and Peruvian authorities agreed to "help each other" in the Flores case.
Filed under: International • Justice • Natalee Holloway
June 17, 2010
Posted: 07:47 AM ET
The family of a Peruvian woman slain in Lima last month said it hopes the eventual trial of Joran Van der Sloot can ease its pain and that of another family thousands of miles away.
Van der Sloot, who is being held in Peru in connection with the slaying of 21-year-old Stephany Flores, is also the lead suspect in the 2005 disappearance of Alabama teen Natalee Holloway in Aruba.
"I think the pain they are feeling, it's very hard," Stephany's brother Enrique Flores told CNN's "Larry King Live" from Lima. "We saw the body of our sister. They don't have the body of their daughter."
Van der Sloot, a 22-year-old Dutch citizen, was arrested twice in Aruba in connection with Holloway's disappearance but released for lack of evidence. Her body has never been found.
Van der Sloot has stated to Peruvian police that he wants to talk to Aruban officials about the Holloway case, Aruban Attorney General Robert F. Pietersz said Wednesday.
"I am not worried. I trust the justice in Peru. So, we are just waiting for the judgment," said Stephany's sister-in-law Carolina Jorge. "We are praying that this case (will bring closure) ... for us and ... for Natalee's family, too."
Filed under: International • Justice • Larry King Live • Natalee Holloway
June 16, 2010
Posted: 07:00 PM ET
Joran Van der Sloot is accused of killing Stephany Flores in Peru. Police say he confessed.  Her family tells Larry what they know about her death.  Does Van der Sloot have answers about the Natalee Holloway's disappearance that could keep him out of a notorious Peruvian prison?
Plus! Jennifer Lopez lived a parent's nightmare!  How she turned it into triumph for children who need it most.
And! The latest on the Gulf oil disaster.
We want to hear from YOU!
Should Joran be kept in a Peruvian
prison or sent home to Aruba?
Filed under: Entertainment • Gulf Oil Spill • Natalee Holloway
June 11, 2010
Posted: 08:08 AM ET
Lima, Peru (CNN) - Joran van der Sloot told investigators during an interrogation that he knows the location of Natalee Holloway's body, but he would neither identify the location nor say what happened to her the night of her disappearance, a Peruvian police official told CNN.
"In the interrogation done to the Dutch citizen, he says he knew the location of the corpse of the American citizen, but that he was going to explain everything to Aruban police," said Miguel Canlla, head of the homicide division of the Peruvian national police investigative unit, on Thursday.
Van der Sloot, a 22-year-old Dutch citizen, is suspected of killing a 21-year-old woman in Lima last month. Stephany Flores Ramirez was found beaten to death in a hotel room registered in van der Sloot's name. Van der Sloot was captured in Chile and returned last week to Peru, where authorities say he confessed to killing Flores.
He was twice arrested in connection with the 2005 disappearance of Holloway, but was released for lack of evidence. Holloway was on a class trip to Aruba when she went missing.
Filed under: International • Justice • Natalee Holloway
June 9, 2010
Posted: 07:44 AM ET
March 19, 2010
Posted: 08:00 PM ET
Via AOLNews.com
(March 19) - A retiree from Manheim, Pa., believes that a photo his wife took while snorkeling off the coast of Aruba reveals human remains, which could belong to missing American teen Natalee Holloway.
"It would be great if this is Holloway, and her family could get the closure that's needed," 78-year-old John Muldowney told AOL News.
The image was captured in October in about 15 feet of water, but the film was not developed until December, according to Muldowney. As they looked through the shots, his wife Pattie remarked, "'My God, this looks like a skeleton,'" he said. "And then we all looked and said, 'It sure does.' Our first thought then was that it was Natalee Holloway.'"
Patti Muldowney of Manheim, Pa., took this underwater photo while she and her husband, John, were on vacation in Aruba in early October 2009. John Muldowney says he has a gut feeling that the picture may show the remains of Natalee Holloway.
Muldowney says he took the photo to a friend who is a Navy SEAL and also to his family doctor to get their opinions on the photo.
"I did not prompt them in any way," he said. "They would go, 'Yeah, I see this snake here on the side,' and then they would notice the bottom and say, 'This looks like a body.' When my doctor looked at the picture, he said, 'It's definitely a body,' so then we decided to contact the police."
The local police put Muldowney in touch with the FBI, who instructed him to send the photo to their Philadelphia office. The photo was sent via certified mail on Feb. 4. Later, the FBI said he was allowed to release it to the media.
Filed under: Natalee Holloway