December 1, 2009
Posted: 08:06 PM ET
We'll be on at midnight for a special in-depth look at the President's deicision to send an additional 30,000 troops to Afghanistan. He's also expected to announced a troop pullback beginning in July 2011. Tonight's EXCLUSIVE Guest: Michael Moore, who just wrote a letter to the President expressing strong opposition to the troop increase.
Gen. Wesley Clark and Brigadier General Mark Kimmitt will also give us their analysis of the President's decision.
That's all coming up on a special edition of Larry King Live at midnight!
And we want to hear from you:
Do you agree with President Obama's decision to send 30,000 additional troops to Afghanistan?
Filed under: Afghanistan • Larry King Live • Michael Moore • Obama
Posted: 03:06 PM ET
Note: Watch a special edition of Larry King Live at midnight! We'll talk about President Obama's decision to increase troop levels in Afghanistan with Michael Moore and others.
Washington (CNN) - President Obama is sending 30,000 additional troops to Afghanistan but plans to conclude the war and withdraw most U.S. service members within three years, senior administration officials told CNN Tuesday.
The president is ordering military officials to get the reinforcements to Afghanistan within six months, White House officials said.
Obama will travel to the U.S. Military Academy at West Point, New York, later Tuesday to officially announce his plans. It would be his second escalation of U.S. forces in the war-torn Islamic country since he came to power in January.
The president also is seeking further troop commitments from NATO allies as part of a counterinsurgency strategy aimed at wiping out al Qaeda elements and stabilizing the country while training Afghan forces.
The expected new troop deployment would increase the total U.S. commitment to roughly 100,000 troops in Afghanistan, bolstered by about 45,000 NATO forces.
Filed under: Afghanistan • Larry King Live • Michael Moore • Obama
September 23, 2009
Posted: 11:46 AM ET
Tune in tonight for a lively conversation with Michael Moore, whose new movie Capitalism: A Love Story is getting lots of buzz. We'll ask Moore about who's to blame for last year's financial collapse and get his take on health care reform, Tea Parties, and whether labels like "socialist" apply to him. You won't want to miss it!
And we want to hear from you:
What do you want Larry to ask Michael Moore tonight?
Filed under: Larry King Live • Michael Moore
November 20, 2008
Posted: 11:50 AM ET
We talked with Michael Moore on Larry King Live.  The filmmaker's deep ties to the auto industry start with his father, who worked for General Motors for 35 years.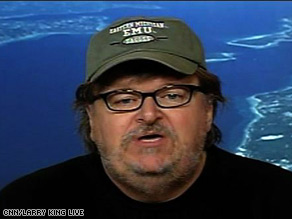 In 1989, Moore became an international figure for his film, "Roger and Me," which centered on the declining auto industry in his hometown of Flint, Michigan and the ripple effect on the town's residents.
Michael Moore: When I made that film, there were still 50,000 people working at General Motors in Flint. I mean they had eliminated 30,000 jobs, but there were still some jobs there.
Today, I think there's less than 12,000 working in the area, so it has devastated Flint. Flint was one of the first towns to go. When I made that movie almost 20 years ago, I hoped that the film would be a warning to other cities that this corporation was intent upon removing jobs from this country and taking them to Mexico and Brazil and other places.
What did you think of the interview ??  Weigh in here!!
Filed under: Economy • Larry King Live • Michael Moore