Barack Obama's inaugural address could be one of the most eagerly anticipated speeches ever given. As the world awaits his words on Tuesday, the speculation is rife: Will he be as eloquent as Lincoln? Can he match the oratory of JFK? Or even of Ronald Reagan?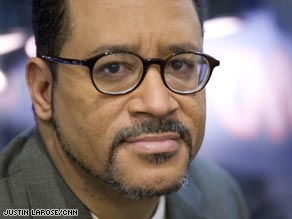 But to understand what Obama does with language - how words crackle and sentences simmer, or sing, in his mouth - you can't just turn to theories of rhetoric or listen to other gifted presidential communicators. You have to get a feel for black speech, whose best rhetoricians marry style and substance to spawn a uniquely earthy eloquence.
I expect Obama's inaugural address to reflect this speech in full, the kind of speech he heard for years from black preachers in the church pulpit. Because as much praise as he has justly received for speaking in a way that doesn't assault the white eardrum or worldview, his rhetoric is firmly rooted in black soil.
(Read the rest of Dyson's column HERE)
Michael Eric Dyson is a University Professor of Sociology at Georgetown University, and author of 16 books, including the New York Times bestseller, "April 4, 1968: Martin Luther King, Jr.'s Death and How it Changed America."