April 27, 2009
Posted: 11:14 PM ET
By Mark Gendreau, M.D./NY Times Blog
The novel infectious agent implicated in the current swine flu outbreak — comprised of genetic material from pigs, birds and humans — has shown the world once again the role air travel plays in rapidly spreading infectious outbreaks.
The reported swine flu cases outside of Mexico likely came from infected tourists traveling home from Mexico on commercial aircraft or their close contacts. As Nobel Laureate Joshua Lederberg once wrote: "The microbe that felled one child in a distant continent yesterday can reach yours today and seed a global pandemic tomorrow."
Are there ways to protect oneself against the spread of swine flu when flying?

Because the passenger cabin airflow is compartmentalized into several sections, risk of on-board transmission of infection is mainly restricted to individuals with either close personal contact with an infected and contagious passenger or seated within two rows of a contagious passenger. Unfortunately, we don't always have the opportunity to select who we are going to be seated next to, so exposure is pure chance.
Here are some measures you can take to help protect yourself during air travel during this outbreak:
Postpone travel if you are sick. Although it is recommended you postpone travel until you are no longer infectious, in reality this recommendation is not commonly followed by passengers, especially since few travelers purchase travel insurance. In fact, it's a good idea for all passengers to postpone any nonessential air travel during times of a national or international health emergency, such as the current swine flu outbreak, especially to countries where the outbreak is large.
Filed under: Larry King Live • Medical • Mexico
April 16, 2009
Posted: 06:13 PM ET
We're just setting up to get ready for the show tonight – here are some behind-the-scenes pictures, featuring our LKL site-producer Quinn Brown, and resident-photographer/producer Brad Parks!
Filed under: Larry King Live • Mexico
March 25, 2009
Posted: 12:00 PM ET
Note: We'll be discussing this tonight on LKL - as the war on drugs heats up in Mexico, are you worried it may spill over into the U.S.?  Let us know!
President Obama on Tuesday vowed to invest the resources needed to address the threat posed by drug traffickers in Mexico.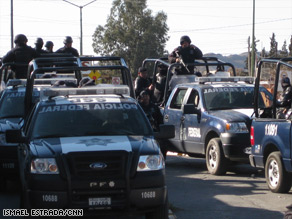 "We are going to continue to monitor the situation, and if the steps we have taken do not get the job done, then we will do more," he told reporters Tuesday night.
He praised the efforts of Mexican President Felipe Calderon to counter drug cartels, which "have gotten completely out of hand," but said the United States must take further steps, such as ensuring that illegal guns and cash do not flow from north of the Rio Grande to the cartels in Mexico.
"That's what makes them so dangerous," he said.
Obama's remarks came hours after Homeland Security Secretary Janet Napolitano announced that the United States is sending hundreds of federal agents and crime-fighting equipment to the border.
Filed under: Larry King Live • Mexico • President Obama
Posted: 10:20 AM ET
By actor Chuck Norris
Do you ever wonder how we can conquer the Middle East but can't close our own borders?
In the news just this past week was this small sampling of headlines: "Locals, Feds Prepare for Any Escalation of Mexican Border Violence"; "(New Mexico) delegation asks for border task force"; "Texas lawmakers angered by border security money being spent in other regions"; "U.S. Sues Railroad Over Smugglers"; "Border drain open for hours before 8 entered it."
More than 7,000 lives have been lost in Mexico's drug wars in just the past 14 months. Nine in 10 guns recovered from those crime scenes have come from the United States. Border towns are experiencing outrageous escalations in crime, including more than 300 drug-related kidnappings in Phoenix alone in 2008. (Most involved Mexican immigrants with ties to drug cartels.)
Isn't it time we finally built a wall that works? Isn't it time for us to quit restricting our border agents by granting illegals more rights than our citizens? Isn't it time we post military personnel at particularly hot illegal crossings?
Instead of shifting tens of millions of dollars from investigating employers guilty of hiring illegal immigrants to fighting Mexican drug cartels, the Obama administration should leave that money alone and hunt down the $100 million-plus that AIG executives robbed from taxpayers for their bonuses.
Filed under: Chuck Norris • Mexico