By Otis Brawley
CNN
Editor's note: Dr. Otis Brawley is chief medical officer for the American Cancer Society and a practicing oncologist. He is CNNhealth.com's Conditions expert and answers viewer questions weekly on CNN.com Live.  Dr. Brawley will be on Larry King Live tonight, 9pm ET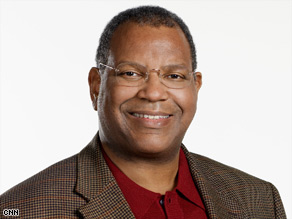 Dr. Otis Brawley says open-mindedness has helped advance traditional medicine.
(CNN) - This week, the comedic actress Suzanne Somers is promoting her newly released book, which espouses the virtues of alternative medicine and, more important, explains why one should avoid conventional medicine.
She is a wonderful actress, and I wish she would stick to her first chosen profession. I know some people will hear her message, follow her advice because of her celebrity status and be harmed. Her medical advice may even cause death.
She joins the list of celebrities who have advocated alternative and complementary treatments for disease and non-proven conventional medicine. I have spent much of my professional career documenting disparities in outcome, higher mortality and more suffering among minorities, poor people and even the uninsured middle class who have limited or no access to conventional medicine, the therapies Somers criticizes.
Mind you, I am not critical of the concept of alternative and complementary medicine. When used wisely, it can be useful. Indeed, open-mindedness to other ideas is how we advance conventional medicine. Today, conventional medicine has the extract of a tree bark called aspirin or the root of a plant called vincristine because of observations from those who practiced non-conventional medicine.
My problem is with some and not all of the advocates of alternative and complementary medicine. My problem is with those who reject the scientific method. Some actually do not reject the scientific method. They seem not to even realize that there is such a thing to reject.
Filed under: Larry King Live • Medical