August 12, 2010
Posted: 05:17 PM ET
Los Angeles, California (CNN) - A federal judge ruled on Thursday to allow same-sex couples to marry in California, starting on August 18, handing another big victory to supporters of gay rights in a case that both sides say will likely end up in the U.S. Supreme Court.
Last week, Chief U.S. District Judge Vaughn Walker in San Francisco struck down the state's ban on same-sex marriage, ruling that voter-approved Proposition 8 violates the U.S. Constitution. Walker had issued a temporary stay on his decision, which on Thursday he said he would lift.
The high-profile case is being watched closely by supporters and opponents of same-sex marriage, as many say it will make its way to the U.S. Supreme Court. If it does, the case could result in a landmark decision on whether people in the United States are allowed to marry people of the same sex.
Same-sex marriage is legal in five U.S. states and in the District of Columbia, while civil unions are permitted in New Jersey. The five states are Massachusetts, Connecticut, Vermont, Iowa and New Hampshire.
Filed under: Marriage
July 9, 2010
Posted: 03:41 PM ET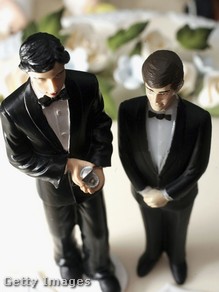 NBC's decision to allow gay couples to enter the "Today" show's annual wedding contest triggered a passionate online debate Friday, opening a new front in the fiercely waged battle over same-sex marriage.
The move came the same day as a federal judge in Boston ruled part of the Defense of Marriage Act unconstitutional, ratcheting up the legal fight over the rights of gays to marry. Activists on both sides are also keenly anticipating a court ruling on the legality of California's ban on gay marriage.
The popular "Today" wedding contest, now in its 11th year, is an unexpected forum for a debate over social change. The segment invites viewers to act as wedding planners, voting on the couple who will get to marry at Rockefeller Plaza, what they will wear and where they will honeymoon. The theme of this year's wedding, which is scheduled to be held Oct. 6, is "modern love."
"Today" announced its decision Wednesday night after executive producer Jim Bell met with representatives of the Gay & Lesbian Alliance Against Defamation, which had complained that the contest application provided only an option for "bride" and "groom."
NBC said the contest had been limited to heterosexual couples because the weddings take place in New York state, which does not issue wedding licenses to gay couples. But after GLAAD leaders noted that New York recognizes the wedding licenses of gay couples legally obtained in other states, producers decided to change the rules.
Filed under: Marriage
April 2, 2010
Posted: 10:31 AM ET
Posted: 08:56 AM ET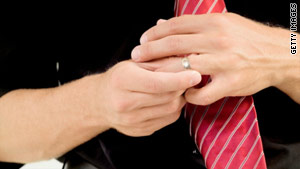 We're going to be discussing infidelity and cheating spouses on TONIGHT'S 'Larry King Live.'
Do you suspect your spouse is cheating on you? Here are some of the warning signs to look out for in your marriage (from cheating-spouse.org)
1 – When they no longer want sex or makes excuses to not have sex.
2 – When they will not allow you access to their computer or they suddenly shut down the computer when you walk into the room. They may password protect their laptop or computer to keep out suspicious eyes. Or they stay up to "work" or "play a game" on the computer after you go to bed. Excessive internet usage, especially late at night, is a red flag.
3 – When they begin to put distance between you or show a lack of interest in what has been the routine with few, if any, excuses for the change in their behavior.
4 – When they suddenly have to work late and have all kinds of new obligations that take them away from home repeatedly or for long periods of time. Or. . . they tell you they are working longer hours and discontinue allowing you to view their paycheck or pay stubs.
5 – If your loved one works with people, such as at a bar or restaurant especially as a waitress or bartender they might suddenly tell you not to visit them at work.  This usually means they are hiding something at their workplace whether it be with a co-worker or a regular customer such as at a bar.
*Check out MORE of the signs at Cheating-Spouse.org
Posted by: LKL Producer Hunter Waters
Filed under: Larry King Live • Marriage • Sex