May 13, 2010
Posted: 11:59 AM ET
via politico.com
South Carolina Gov. Mark Sanford acknowledged on Wednesday that he spent last weekend in Florida in hopes of rekindling the relationship with the Argentine girlfriend who ended his political career.
The governor and his girlfriend, Maria Belen Chapur, were spotted by tipsters for the website Gawker over the weekend, and Sanford confronted the rumors head-on Wednesday, conceding during a news conference back home that he had seen the woman.
The news conference was on an unrelated topic, but the Republican governor, now divorced, chose to bring up his Florida getaway.
"As a matter of record, everybody in this room knows exactly who I was with over the weekend," Sanford said, referring to the rendezvous.
"That is no mystery to anybody given what I said last summer," he said. "And, you know, the purpose was obviously to see if something could be restarted on that front, given the rather enormous geographic gulf between us. And time will tell. I don't know if it will or won't."
Filed under: Mark Sanford
February 6, 2010
Posted: 09:27 AM ET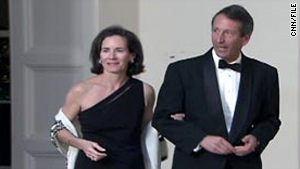 NOTE: Jenny Sanford will be on LKL this MONDAY NIGHT – let us know what you want to ask her, and tune in Monday at 9pmet/6pmpt!
When South Carolina Gov. Mark Sanford returned to the United States last June from Buenos Aires, Argentina, where he had been having one last secret tryst with his Argentine mistress, he hopped in a vehicle driven by a former aide who had sped through the night to meet him at the Atlanta airport.
Sanford was on his way back to Columbia, to appear before a phalanx of reporters and television cameras to explain to South Carolina and the nation why he had mysteriously disappeared from the state a week earlier.
But first, he had to call and check in with his trusted political adviser - who also happened to be the wife he had betrayed.
"Do you know what kind of storm you are returning to?" an incredulous Jenny Sanford said she asked her husband. "And where do we stand?"
Her husband told her the "good news": The affair, which Jenny Sanford had discovered the previous January, was finally over after a year. "I told you, it's all behind us," he explained. "Everything's good."
"Good?" Sanford writes in her new memoir, "Staying True," which landed in bookstores Friday. "What part of this did he think was good?"
Mark Sanford's office had no comment on the book.
Filed under: Larry King Live • Mark Sanford • Politics
January 6, 2010
Posted: 12:14 PM ET
NOTE: Jenny Sanford will be a guest on LKL Feb. 8
CNN) - The public will get the other side of the story of the South Carolina governor sex scandal sooner, as the governor's estranged wife Jenny Sanford's memoir publishing date has been moved up.
Sanford's book, "Staying True," will now hit bookstores on February 5 instead of the original April release date, the book's publisher, Ballantine Books, announced Tuesday.
Sanford landed the book deal in September, a few months after her husband, South Carolina Gov. Mark Sanford, admitted having an affair with an Argentine woman.
In December, Jenny Sanford released a statement,saying she was filing for divorce "after many unsuccessful efforts at reconciliation."
According to a synopsis of the book on the publisher's Web site, her memoir "reveals the private ordeal behind her very public betrayal - and offers inspiration for anyone struggling to keep faith during life's most trying times."
Filed under: Mark Sanford • Politics
December 15, 2009
Posted: 01:46 PM ET
After spending years as a key player on her husband's political team, South Carolina's soon-to-be ex-First Lady Jenny Sanford now finds her own prospective political career the subject of considerable speculation.
With extensive connections, an impressive resume of her own, access to the state's top fundraisers and a widespread belief that she played a central role in her husband's political successes, Jenny Sanford has South Carolina political insiders wondering privately and in local political blogs whether a run for Congress—or even governor—is on the horizon.
Sanford announced Friday that she is divorcing Republican Gov. Mark Sanford, whose once-bright national political career was crippled by his admission of an extramarital affair.
While Jenny Sanford has avoided mention of any political ambitions of her own, her background suggests she's well-equipped for a run for public office. After serving as her husband's campaign manager both for his first run for Congress in 1994 and his initial run for governor in 2002, she emerged as a backroom powerbroker with ties to the state's political elite.
And prior to her work on her husband's campaigns, Sanford was an accomplished investment banker who became vice president of mergers and acquisitions at Lazard, the New York investment bank, by the age of 27.
"From my personal knowledge of her personal intellect and demeanor, I know that she is one of the most talented and smartest political operatives I have ever seen," said Katon Dawson, the former chairman of the South Carolina GOP and longtime confidant of the Sanfords.
Indeed, some even credit Jenny Sanford with helping to save her embattled husband's job this summer. While she notably did not appear by his side at the press conference where he admitted to his infidelity—and quickly moved out of the governor's mansion—when pressure for the governor to resign was at a fever pitch in July, it was she who reached out to state legislative leaders to quell the calls for his job.
Filed under: Jenny Sanford • Mark Sanford • Politics
December 11, 2009
Posted: 05:55 PM ET
By Peter Hamby, CNN Political Producer
(CNN) - Jenny Sanford, the wife of South Carolina Gov. Mark Sanford, said Friday she is filing for divorce.
She said in a statement that "the dissolution of any marriage is a sad and painful process."
"This came after many unsuccessful efforts at reconciliation, yet I am still dedicated to keeping the process that lies ahead peaceful for our family," the statement said.
The Sanfords have lived apart since June when the governor admitted to an extramarital affair with an Argentine woman.
In a response Friday, Mark Sanford said, "While it is not the course I would have hoped for, or would choose, I want to take full responsibility for the moral failure that led us to this tragic point.
"Jenny is a great person, and has been a remarkable wife, mother and first lady. She has been more than gracious these last six months and gone above and beyond in her patience and commitment to put the needs of others in front of her own.
"While our family structure may change, I know that we will both work earnestly to be the best mom and dad we can be to four of the finest boys on earth.
"I will join with her in asking the press to respect our shared desire for privacy as we quietly move forward. We respectively ask for your prayers."
After the governor made a nationally televised admission about his affair, there were calls for Sanford to resign and investigations by media organizations and the South Carolina Ethics Commission into whether he tapped taxpayer resources for personal use.
In November, the ethics panel charged Sanford with 37 violations of the state ethics code.
Filed under: Mark Sanford
August 18, 2009
Posted: 11:18 AM ET
Before Jenny Sanford came along, the options for wronged political wives were pretty poor. You could suffer silently (see Silda Wall Spitzer), deny everything (hello, Hillary), or make catty asides about the harlot who caused your husband to stray (Elizabeth Edwards). Then came Jenny Sanford.

 
Early this past summer, just as the world was savoring the news that yet another conservative Republican politician had tumbled from grace in a manner worthy of the best French farce—"hiking the Appalachian Trail" will never have the same meaning—there emerged an unlikely hero in the mess down in South Carolina. Petite, clear-eyed, strong-willed, pious without being smug, smart without being caustic, Jenny Sanford became an unlikely heroine by telling the simple truth. Her children were the most important thing in the world to her. She had kicked the lying bum out of the house when he refused to give up his mistress, but marriage is complex, life is hard, and if he wanted to try and make the marriage work, the door was open.
Her one-page statement saying as much was written without the help of spin doctors or media consultants. It came from her heart and her head. It mentioned God without making you squirm. The world took note. Newsweek dubbed her a "media genius"; The Washington Post hailed her as "a new role model for wronged spouses." On television, Diane Sawyer called her classy, praising her "grace in the glare." While her husband was giving overly emotional press conferences about soul mates and impossible love, Sanford kept her mouth shut and her head down. Just as the scandal was finally dying down, she agreed to sit with Vogue and set the record straight about what really happened in the low country of South Carolina.
Filed under: Jenny Sanford • Mark Sanford
August 13, 2009
Posted: 07:48 AM ET
(CNN) – South Carolina Gov. Mark Sanford opened up about the state of his family on Wednesday — the first time he has done so since his wife, Jenny, moved out of the governor's mansion last week.
Asked during a radio interview how he's coping with being alone in the mansion, Sanford responded: "That part's hard."
"But there are consequences for any mess-up that we have in life, and that's one of them," the governor told Columbia-based WVOC radio. "That's probably the most bitter part of it."
Sanford said he and Jenny decided to move his four boys to Charleston for the school year because "they deserve to be out of the fishbowl they've been in."
"They've been subjected to a lot this summer," he said. "That was a result of my actions, but nonetheless it put them in a spot they really didn't want to be."
"The aftermath of any of these things is not going to be ideal," Sanford added, referring to his admission of an extramarital affair and the ensuing political fallout. "We take it a day at a time."
The governor did a round of local radio interviews Wednesday and spent much of his time responding to reports that he violated state law by booking expensive international flights and using state planes for personal and political business.
Sanford repeated his assertion that he has spent less on travel than previous administrations and claimed he is being held to a different standard because of his personal mistakes. The governor said that while most South Carolinians are ready to move past the saga, the only ones who continue to harp on the story are "the media and the political class."
"I fell in love with one woman I should not have fallen in love with," he said. "We all get that. Everybody's been trying to move on."
Sanford also acknowledged that his political career is effectively finished.
"I am dead politically," he said at the end of the interview. "I am not running for another office. I just want to make the most of the 16 months that are remaining in trying to honor where I started in this thing, which is, how do you do some things that hopefully make people's lives just a little bit better in South Carolina."
Filed under: Mark Sanford • Politics is King