May 21, 2010
Posted: 10:29 AM ET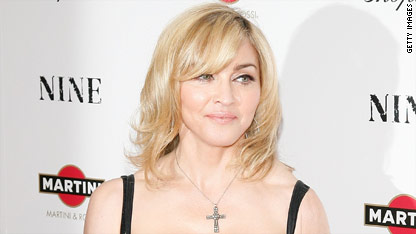 via usmagazine.com
Madonna decries the ruling handed down Thursday in Blantyre, Malawi that will send a gay couple to prison.
"Today, Malawi took a giant step backward," the singer told UsMagazine.com in a statement. "The world is filled with pain and suffering; therefore, we must support our basic human right to love and be loved."
Tiwonge Chimbalanga, 33, and Steven Monjeza, 25, were convicted of unnatural acts and gross indecency and sentenced to 14 years of hard labor in prison.
Homosexuality is seen as an abomination in the South African country and most gays, lesbians and transgender people do not show public affections. The couple held an engagement party that was later splashed across the front page of a local newspaper. They were arrested two days later without bail.
According to the New York Times, Magistrate Nyakwawa Usiwa Usiwa said he was especially offended that the couple celebrated their relationship in public with an engagement party.
Filed under: International • Madonna
March 31, 2010
Posted: 04:46 PM ET
Via NY Daily News
By Cristina Everett  Daily News Staff Writer
While Madonna continues to push the limit with her jaw-dropping stage costumes and red carpet couture, she hopes daughter Lourdes doesn't follow in her footsteps. 
"If anything, I wish she'd dress more conservatively," the pop icon told Us Weekly. "How's that for irony?"
Madge, 51, has teamed up with her 13-year-old daughter, who has developed her own eccentric style, to create a teen clothing line for Macy's aptly named Material Girl.
"I did a line for H&M, which I enjoyed, but it was a lot of work," she said. "I thought, I don't want to give up the rest of my careers, so I'm not going to do my own line again.
"But I have a 13-year-old with tireless energy who wanted to do this. I've been involved in business meetings, but Lola's really doing the work. I just sit in the corner on my BlackBerry!"
Though the singer currently models for high-end fashion label Dolce & Gabbana, she said her new venture in teen clothing design was a result of her daughter.
"Lola has been bothering me for ages about designing clothes," she told the Associated Press. "As we are working, I see her more as a creative person, as an artist. Then every once in a while, I remembered that she is my daughter."
Filed under: Madonna
April 3, 2009
Posted: 08:17 AM ET
Madonna's petition to adopt a second Malawian child was rejected by a local judge Friday, an official said.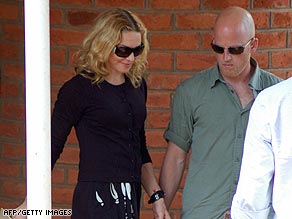 "The decision came down to residency requirement and the fact that the judge believes she was being well taken care of in the orphanage," said Zione Ntaba, a spokeswoman for the Malawi Justice Department.
"For the Malawians, the fact that the child is at an orphanage, is being taken care of and is going through the school education system, that does qualify as the best interests of a child," Ntaba added.
The 50-year-old pop star had filed a petition to adopt a girl, Chifundo James, 4, whose first name translates to mercy in Chichewa, the country's national language. She has three other children, including a son she adopted from the southern African nation in 2006.
Filed under: Adoption • Madonna
March 30, 2009
Posted: 08:10 AM ET
Madonna will hear Friday whether she will be allowed to adopt a child from Malawi, a spokeswoman for the poor African nation's attorney general told CNN Monday.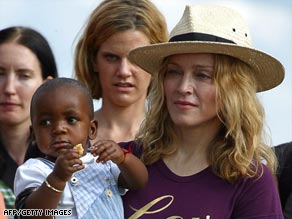 The singer should appear in person to hear the judge's decision, said Zione Ntaba, press officer for the Attorney General's Office of Malawi. She was in court for Monday's hearing where Ntaba said the judge read documents and questioned the parties.
An uncle of the 4-year-old girl Madonna wants to adopt was scheduled to sign adoption papers Monday, according to Martin Geissler, a reporter for the ITN television network who is in Malawi, but he does not appear to have been at the court.
The singer, who adopted her son, David Banda, from Malawi in 2006, arrived in the impoverished country Sunday.
She was seen walking through the village of Chinkhota with her daughter Lourdes, 12, after touching down at the airport in Lilongwe.
Filed under: Madonna