by Diane Clehane, contributor to thedailybeast.com
From Kate Gosselin to Bravo's newest Housewives from New Jersey, I'm obsessed with the entire spray-tanned, French-manicured sorority that has managed to turn suburban motherhood into compulsively watchable—albeit train wreck—television.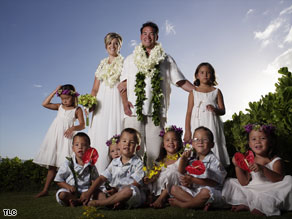 I've never been a regular watcher of Bravo's Real Housewives franchise. But for some inexplicable reason, I just knew I had to watch The Real Housewives of New Jersey—and I can't stop watching. These five women, who clearly shop at the same places Carmela Soprano did, make the screeching strivers from New York look tame.
And then there's Gosselin, TLC's new cash cow and one half of the formerly wholesome, bickering twosome of Jon & Kate Plus 8, about as prototypical a suburban couple (with eight children) as you'd ever find on television. The pair has been transformed into the recession era's Brangelina, with a record-breaking number of tabloid covers to prove it.
When I see photos of Kate in her red leather (or is it pleather?) jacket and denim miniskirt striding through the airport with her bodyguard, or read stories of a Jersey housewife's plans to launch a children's accessory line, I am struck by the thought that in this age of living with less of everything, from money to expectations, even our celebrities have gotten smaller. A lot smaller.
READ MORE FROM thedailybeast.com
Filed under: Entertainment • Kate Gosselin