March 19, 2009
Posted: 07:55 AM ET
By former White House deputy chief of staff Karl Rove
President Barack Obama and his West Wing lieutenants are playing on the world's largest stage, yet act as if no one is watching them when they contradict their campaign promises. That behavior is unwittingly giving the Republicans an opening.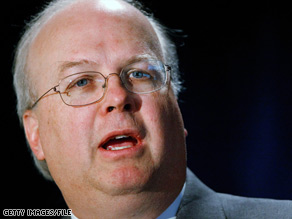 For example, Team Obama thinks the president, having spent a good portion of the campaign decrying the $2.9 trillion in deficits during the Bush years, can now double the national debt held by the public in 10 years. Having condemned earmarks during the campaign, the Obama administration now believes it can wave through 8,500 of them in the omnibus-spending bill, part of the biggest spending increase since World War II.
With the Dow at 7,486 and unemployment at 8.1%, Mr. Obama says the economy is fundamentally sound. Does he suppose the nation won't recall him attacking John McCain last September for saying the same thing - when the Dow was at 11,000 and unemployment at 6.2%?
Candidate Obama vowed to end "the same partisanship and pettiness and immaturity that has poisoned our politics." Yet his administration geared up MoveOn.org to lead a left-wing coalition to pressure Republicans and centrist Democrats, organized a daily conference call to coordinate liberal attack dogs, and strategized with Americans United for Change on ads depicting the GOP as the party of "no."
READ MORE of Rove's commentary
Filed under: Karl Rove • President Obama
March 12, 2009
Posted: 08:55 AM ET
By Karl Rove, former deputy Chief of Staff to President George W. Bush
Presidents throughout history have kept lists of political foes. But the Obama White House is the first I am aware of to pick targets based on polls. Even Richard Nixon didn't focus-group his enemies list.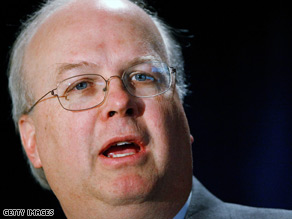 Team Obama - aided by Clintonistas Paul Begala, James Carville and Stanley Greenberg - decided to attack Rush Limbaugh after poring over opinion research. White House senior adviser David Axelrod explicitly authorized the assault. Chief of Staff Rahm Emanuel assigned a White House official to coordinate the push. And Press Secretary Robert Gibbs gleefully punched the launch button at his podium, suckering the White House press corps into dropping what they were doing to get Mr. Limbaugh.
Was it smart politics and good policy? No. For one thing, it gave the lie to Barack Obama's talk about ending "the political strategy that's been all about division" and "the score-keeping and the name-calling." The West Wing looked populated by petulant teenagers intent on taking down a popular rival. Such talk also shortens the president's honeymoon by making him look like a street-fighting Chicago pol instead of an inspirational, unifying figure. The upward spike in ratings for Rush and other conservative radio commentators shows how the White House's attempt at a smackdown instead energized the opposition.
Did it do any good with voters not strongly tied to either party? I suspect not. With stock markets down, unemployment growing, banks tottering, consumers anxious, business leaders nervous, and the economy shrinking, the Obama administration's attacks on a radio talk show host made it seem concerned with the trivial.
READ MORE of Rove's commentary HERE
Filed under: Karl Rove
March 5, 2009
Posted: 07:40 AM ET
Barack Obama won the presidency in large measure because he presented himself as a demarcation point. The old politics, he said, was based on "spin," misleading arguments, and an absence of candor. He'd "turn the page" on that style of politics.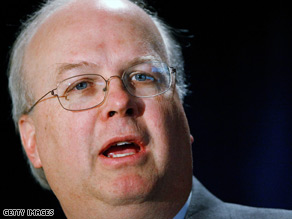 Last week's presentation of his budget shows that hope was a mirage.
For example, Mr. Obama didn't run promising larger deficits - but now is offering record-setting ones. He'll add $4.9 trillion before his term ends and $7.4 trillion if given a second, doubling the national debt in five years and tripling it in 10. Mr. Obama's deficits will be much larger than he admits because he relies on rosy economic assumptions and gimmicks that mask spending and debt (like assuming popular new programs he supports won't be renewed).
Nor did Mr. Obama run promising more earmarks. Instead, he said he'd reform the earmark culture and "scour the federal budget, line by line, and make meaningful cuts." Now he wants to wave through a $410 billion omnibus spending bill with about 8,500 earmarks. This is on top of the $787 billion stimulus bill signed into law two weeks ago.
His justification comes to us from the White House's budget director, Peter Orszag, who recently called the omnibus spending bill "last year's business." But it will fund the federal government for the next six months. Mr. Obama could veto the legislation or push congressional Democrats to ditch the earmarks. But he has given little indication that he will do either.
READ MORE OF ROVE'S commentary HERE
Filed under: Karl Rove
January 22, 2009
Posted: 10:40 AM ET
By Karl Rove, former senior adviser and deputy chief of staff to President George Bush.
Its call sign has always been Air Force One. But on Tuesday, it was Special Air Mission 28000, as former President George W. Bush and his wife Laura returned home to Texas on a plane full of family, friends, former staff and memories of eight years in the White House.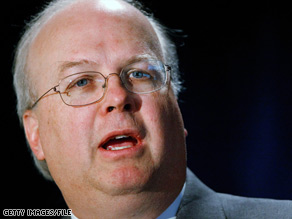 The former president and his wife thanked each passenger, showing the thoughtfulness and grace so characteristic of this wonderful American family.
A video tribute produced warm laughter and inevitable tears. There was no bitterness, but rather a sense of gratitude - gratitude for the opportunity to serve, for able and loyal colleagues, and above all for our country and its people.
Yet, as Mr. Bush left Washington, in a last angry frenzy his critics again distorted his record, maligned his character and repeated untruths about his years in the Oval Office. Nothing they wrote or said changes the essential facts.
To start with, Mr. Bush was right about Iraq. The world is safer without Saddam Hussein in power. And the former president was right to change strategy and surge more U.S. troops.
(Read the rest of Rove's commentary HERE)
Filed under: Iraq • Karl Rove • President Bush
January 15, 2009
Posted: 11:23 AM ET
By Karl Rove
On Tuesday, America can take pride in a special transfer of power as Barack Obama becomes the first African-American to be sworn in as president.
Shortly after the ceremony, the new president's aides will slip away to inspect the offices they now inhabit. They've put much of their lives on hold to take jobs that will last, for most, two or three years. Hours will be long, pressure unrelenting, decisions momentous, and families often neglected. Every American should respect their sacrifices.
What these aides will soon realize is that they aren't history, but passing through it. I learned that from an elderly man who told me "to honor the house" as he emptied my trash bin late my first day at work.
Filed under: Karl Rove • President-Elect Obama