February 17, 2010
Posted: 07:17 PM ET
Tiger Woods Breaking News! The disgraced golfer plans to break his silence on Friday. We hear he is expected to apologize for his behavior and discuss his return to the sport. What more will the golfing great say about the scandal that's followed him for months?
And you better believe Judge Judy will have something to say it! She brings down the gavel on Woods, Sarah Palin, and Kevin Smith's plane controversy - is he too fat to fly? Judge Judy rules!
And we want to hear from you:
What do you think Tiger Woods should say on Friday when he breaks his silence?
Filed under: Judge Judy • Larry King Live • Tiger Woods
September 8, 2009
Posted: 06:02 PM ET
One-on-one with Judge Judy, host of the top-rated TV court show! She doesn't hold back and tonight's no exception. Judge Judy tells us what she thinks of the case of Jaycee Dugard, who was allegedly abducted and raped by Phillip Garrido and forced to live in his shed for 18 years. If the charges against Garrido are true, can he ever be rehabilitated? And what does Judge Judy make of Garrido's wife, Nancy, who is also charged in the case? Is she an accomplice or a victim, too?
PLUS – a Larry King Live EXCLUSIVE! The husband of Denise Amber Lee - who was abducted from her home, assaulted and murdered last year. Nathan Lee speaks for the first time since a jury convicted his wife's killer and recommended the death penalty. Justice served? Tune in tonight at 9pmET/6pmPT.
And we want to hear from you:
Can pedophiles be rehabilitated?
To see if you have any registered sex offenders in your neighborhood, check out these sites:
National Sex Offender Public Website
Filed under: Crime • Judge Judy • Justice • Larry King
March 17, 2009
Posted: 07:28 AM ET
Viewers have learned that television's no-nonsense Judge Judy cuts through the bull and gets to the heart of the matter.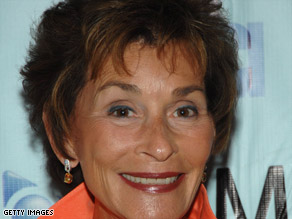 On Monday night's "Larry King Live," Judge Judy turned her sharp legal mind to matters of the economy, sharing why she thinks Americans have what it takes to navigate the hard months ahead. And she also has some advice for President Obama and sharp-worded assessments of Bernie Madoff and AIG bonuses.
Here's a portion:
Larry King, host: The polls show the public worried about the economy. You had Warren Buffett on, and we had him on. And he called it an economic Pearl Harbor. When you look around, what's your take?
Judge Judy Sheindlin: A lot of people are scared. A lot of people who had money don't have money anymore. A lot of people who didn't have a lot of money have a lot less. And I think everybody is frightened because for the first time - at least in my memory - people like Warren Buffett are saying that this is not a good thing.
However, I do believe that this is a great country. And I do believe that. I think the fundamentals of America are strong.
This country has a wonderful spirit. And I think that, in the end, the spirit will take it through. It may take a couple of years. I wish I were younger so that I would have more years to enjoy it. But I think we'll be fine.
Filed under: Judge Judy • Larry King Live
March 15, 2009
Posted: 05:42 PM ET
Tonight, Larry returns to the desk and Judge Judy is his guest.   She's outspoken!  She's funny!  And, she never disappoints!  We'll hear what she has to say about President Obama, the Anna Nicole Smith arrests, Chris and Rihanna, the Octomom and more!
WE WANT TO HEAR FROM YOU! Leave your comments or questions for Judge Judy HERE!
Then, tune-in to the live show tonight at 9 p.m., ET.   We just may use your comment on the air during our Blog Segment!
As always:
1) Stay on topic.
2) Keep it short
3) No curse words
4) No links
5) Use a name (no initials or screen names)
Filed under: Judge Judy • Larry King Live • Octuplets • Rihanna