After a week of pointed verbal barbs, host Jon Stewart sat face-to-face with financial analyst Jim Cramer on Comedy Central's "The Daily Show" and continued the assault Thursday. Stewart blamed Cramer and cable network CNBC for being irresponsible cheerleaders in the lead-up to the stock market meltdown.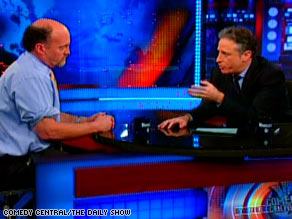 Stewart, whose acerbic brand of satire centers largely on the political news of the day, has held Cramer's frenetic, nearly cartoonish, stock-advice show, "Mad Money," and other CNBC programming up as examples of an anything-goes attitude that contributed to the financial collapse.
"I understand you want to make finance entertaining, but it's not a [expletive] game," Stewart said during the recorded interview, segments of which aired on Thursday night. "When I watch that, I can't tell you how angry that makes me."
Stewart's blistering criticism of Cramer this week has included a censored, two-word phrase he spoke into the camera after airing video of Cramer enthusiastically urging viewers to buy stock in Bear Stearns.
Filed under: Economy • Jon Stewart