Vice President Joe Biden on money, jobs, and what the current economy means for you!
Plus - EXCLUSIVE!
Senator John Kerry and his wife Teresa Heinz Kerry in their first interview together on her battle with breast cancer.
That's all on Larry King Live on Wednesday at 9ET/6PT!
What would you like Larry to ask Vice President Joe Biden and Sen. John Kerry and his wife Teresa Heinz Kerry?
Filed under: Joe Biden • John Kerry • Larry King Live • Politics is King
By Senator John Kerry, D-MA
No foreign power has remained welcome in Afghanistan for a sustained period, and the British and the Soviets paid a bitter price for trying. Our goal has never been to dominate Afghanistan but, rather, to eliminate al-Qaeda's haven and to empower Afghans to govern their country in line with their best interests and our national security.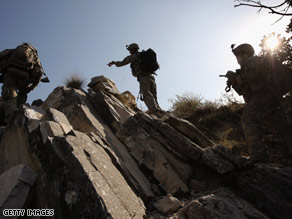 We shouldn't delude ourselves into thinking that we are in anything but a race against time in a region suspicious of foreign footprints. The United States is not in Afghanistan to make it our 51st state - but to make sure it does not become an al-Qaeda narco-state and terrorist beachhead capable of destabilizing neighboring Pakistan.
We must renew our original mission - and President Obama has rightly pledged to recommit to Afghanistan as the center of our global counterinsurgency campaign, beginning with the deployment of as many as 30,000 additional troops.
(Read more of Sen. Kerry's commentary HERE)
Filed under: Afghanistan • John Kerry