NOTE: We'll be discussing this TONIGHT on LKL – we've got Jaycee's spokesperson on the show – let us know what you want to hear from her!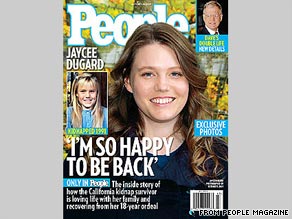 The first images are emerging of an adult Jaycee Dugard, the woman who was kidnapped when she was 11 and allegedly held captive for 18 years by a couple in an elaborate compound hidden in the backyard.
Dugard is featured on the cover of the new issue of People magazine, smiling brightly in the photo, her face framed by long brown hair.
"I'm so happy to be back with my family," Dugard told the magazine.
She lives in seclusion with her mother Terry Probyn and her two daughters, who police say were fathered by her captor Phillip Garrido.

Watch how Jaycee Dugard is adjusting »
"They live a surprisingly normal life, considering the circumstances," said Terry Probyn's stepmother, Joan Curry, according to the magazine.
Dugard spends her time riding horses and cooking and is considering collaborating on a book, People reported.
Garrido and his wife are accused of abducting Dugard in 1991 from a bus stop near her home in South Lake Tahoe, California, and keeping her in the compound behind their home in Antioch, California.
Filed under: Jaycee Dugard • Justice • Larry King Live