by James Carville, Democratic strategist and political contributor for CNN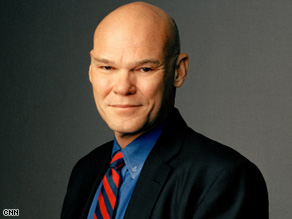 On Thursday, Rush Limbaugh, the moral and intellectual leader and most influential person in the Republican Party in the United States, wrote in the august op-ed pages of The Wall Street Journal, the acknowledged epicenter of right-wing thought, that President Obama should adopt a bipartisan solution to address the president's economic stimulus plan - or as Limbaugh refers to it, "porkulus."
Limbaugh proposes that because the Democrats got roughly 54 percent of the votes to the Republicans' 46 percent, the stimulus package should be allocated along his definition of ideological lines, i.e. 54 percent towards infrastructure improvement and 46 percent toward tax breaks for Limbaugh and his friends.
He writes, "Fifty-three percent of American voters voted for Barack Obama; 46% voted for John McCain, and 1% voted for wackos. Give that 1% to President Obama. Let's say the vote was 54% to 46%.
(Read the rest of Carville's commentary HERE!)
Filed under: James Carville • Rush Limbaugh