by Dave Itzkoff
A message posted on SouthParkStudios.com, the Web site of Trey Parker and Matt Stone's production company.
An episode of "South Park" that continued a story line involving the Prophet Muhammad was shown Wednesday night on Comedy Central with audio bleeps and image blocks reading "CENSORED" after a Muslim group warned the show's creators that they could face violence for depicting that holy Islamic prophet. Revolution Muslim, a group based in New York, wrote on its Web site that the "South Park" creators Matt Stone and Trey Parker "will probably wind up like Theo Van Gogh" for an episode shown last week in which a character said to be the Prophet Muhammad was seen wearing a bear costume. Mr. Van Gogh was slain in Amsterdam in 2004 after making a film that discussed the abuse of Muslim women in some Islamic societies.
The new episode of "South Park" on Wednesday night tried to revisit this character, but with the name and depiction of the character blocked out. It was unclear how much of the bleeping was Mr. Stone and Mr. Parker's decision. In a message posted on their Web site, SouthParkStudios.com, they wrote that they could not immediately stream the new episode on the site because:
After we delivered the show, and prior to broadcast, Comedy Central placed numerous additional audio bleeps throughout the episode. We do not have network approval to stream our original version of the show.
On Thursday morning, a spokesman for Comedy Central confirmed that the network had added more bleeps to the episode than were in the cut delivered by South Park Studios, and that it was not giving permission for the episode to run on the studio's Web site.
Filed under: Entertainment • Islam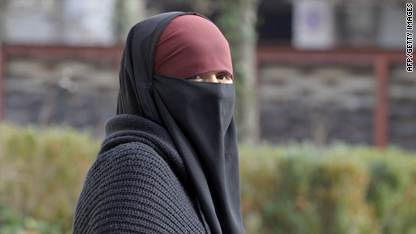 (CNN) - The latest round in the battle of the burqa kicks off Thursday in Belgium, which could become the first country in Europe to ban face coverings worn by observant Muslim women.
Lawmakers are considering a ban in all public places on niqabs, veils that cover the face, as well as burqas, which cover the face and everything else from head to toe.
They're motivated both by security and morality, they say.
"We think all people in public places must show their face," says Denis Ducarme. And, he says, "We must defend our values in the question of the freedom and the dignity of the woman."
His liberal Reformist Movement drafted the legislation, and claims broad cross-party support.
Ducarme denies that Islam requires women to wear burqas or niqabs.
Filed under: CNN • Europe • Islam