August 31, 2010
Posted: 07:37 PM ET
The U.S. combat mission in Iraq is officially over after more than 7 years and 4,400 U.S. deaths.
President Obama addresses the nation to mark the milestone and we'll have reaction to his speech and full coverage of this historic day.
Were the sacrifices worth it?
What happens next?
What does it mean for both Iraq…and the United States?
And we want to hear from you…
Has the Iraq war been successful?
Weigh in below!
Filed under: Iraq • Larry King Live
Posted: 03:21 PM ET
By Alan Silverleib, CNN
Washington (CNN) - Almost seven and a half years ago, President George W. Bush launched a blistering "shock and awe" invasion of Iraq.
The goal: eliminate a perceived threat of weapons of mass destruction while replacing a hostile, tyrannical regime with a friendly democracy in the heart of the Middle East.
On Tuesday at 5 p.m. ET - at a cost of more than 4,400 U.S. military personnel killed and 30,000 wounded - America's combat mission in Iraq will officially draw to a close.
The quick removal of Iraqi leader Saddam Hussein ushered in years of grinding sectarian violence, war, terrorist attacks and, according to some observers, increased Iranian influence in the region. But it also paved the way for nationwide elections and increasing economic development.
Whether the war was worth the price remains a subject of fierce debate both at home and abroad.
President Barack Obama, who based much of his campaign for the White House on growing public exhaustion with the conflict, will announce the conclusion of the combat mission in a speech to be delivered from the Oval Office at 8 p.m. ET. He spent the day meeting with troops at Fort Bliss, Texas - a base which has supplied soldiers at all stages of the conflict.
Obama called Bush for a "few minutes" from Air Force One while en route to Texas, according to White House Deputy Press Secretary Bill Burton. The White House has not said if Obama will give Bush any credit during his speech for the controversial 2007-08 military "surge," believed by some observers to have helped curtail Iraqi violence.
Filed under: Iraq • Larry King Live • Politics • President Obama
June 8, 2009
Posted: 10:51 AM ET
Stephen Colbert left no doubt about his solidarity with American troops when he taped the first of four Comedy Central shows he'll produce in Iraq this week.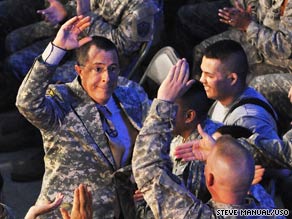 Colbert, wearing a business suit made of the same camouflaged material used for soldiers' desert uniforms, submitted to a regulation military haircut as hundreds of U.S. troops cheered wildly Sunday.
The comedian, who satirizes conservative TV pundits on his "Colbert Report," began his "Operation Iraqi Stephen: Going Commando" USO tour Sunday in the Baghdad headquarters of the U.S.-led military coalition in Iraq.
"It must be nice in Iraq, because some of you keep coming back again and again," Colbert said, joking about the multiple tour many troops have had in Iraq since the 2003 invasion. Some troops had accumulated enough frequent flyer miles to earn them a free ticket to Afghanistan, he joked.
Colbert told his guest, Gen. Ray Odierno, he felt "a little intimidated" by him, not because he was he top U.S. commander in Iraq, but because it felt like he was "interviewing Shrek." Odierno is an imposing bald figure at 6-feet, 5-inches tall.
Filed under: International • Iraq • Stephen Colbert
May 13, 2009
Posted: 12:07 AM ET
(CNN) - The accused terrorist who said he was tortured into making a false connection between al Qaeda and Iraq has died in a Libyan prison, human rights monitors said Tuesday.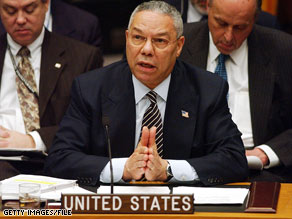 Colin Powell featured Ibn al-Shaykh al-Libi's claim in a presentation to the U.N. Security Council.
Ibn al-Shaykh al-Libi's allegation that Iraqi agents trained al Qaeda operatives in the use of chemical and biological weapons was "pivotal" to the Bush administration's case for the 2003 invasion of Iraq, said Stacy Sullivan, a counterterrorism adviser for the U.S.-based Human Rights Watch.
"He's a fairly significant figure in the counterterrorism world, and his testimony I would say provided the linchpin for the invasion of Iraq," she said.
Then-Secretary of State Colin Powell featured al-Libi's claim in the dramatic presentation he made to the U.N. Security Council just weeks before the invasion, citing it as evidence of ties between Iraqi dictator Saddam Hussein's government and the terrorist network responsible for the 2001 attacks on New York and Washington. Al-Libi recanted his account after the invasion, and no other evidence supported the story, the Senate Intelligence Committee reported in 2006.
Al-Libi's death was first reported by a Libyan newspaper over the weekend and confirmed by Human Rights Watch researchers Monday, Sullivan said. The newspaper report said he had committed suicide, and the group is asking Libya to conduct a "full and transparent" investigation into his death.
Filed under: al Qaeda • Iraq • Larry King Live
May 10, 2009
Posted: 11:07 PM ET
By JACK DOLAN McClatchy Newspapers
BAGHDAD - U.S. House Speaker Nancy Pelosi made a surprise visit to Iraq Sunday, discussing how the two countries will handle intelligence gathering and fight political corruption as the U.S. military begins to withdraw.
Pelosi's conversation with Prime Minister Nouri al-Maliki and her counterpart in the Iraqi Parliament, Ayad al-Samarrai, came one day after the brother of Iraq's Trade Minister was caught trying to flee the country with a trunk full of cash and gold, seeking to escape corruption charges.
As the security situation has improved, political corruption has emerged as something of a national obsession in Iraq, with politicians and religious leaders of all stripes condemning it as a "second insurgency."
Filed under: Iraq • Larry King Live • Politics
January 22, 2009
Posted: 12:22 PM ET
By George McGovern, former senator from South Dakota, who was the Democratic nominee for president in 1972.
As you settle into the Oval Office, Mr. President, may I offer a suggestion? Please do not try to put Afghanistan aright with the U.S. military. To send our troops out of Iraq and into Afghanistan would be a near-perfect example of going from the frying pan into the fire.
There is reason to believe some of our top military commanders privately share this view. And so does a broad and growing swath of your party and your supporters.
True, the United States is the world's greatest power - but so was the British Empire a century ago when it tried to pacify the warlords and tribes of Afghanistan, only to be forced out after excruciating losses. For that matter, the Soviet Union was also a superpower when it poured some 100,000 troops into Afghanistan in 1979. They limped home, broken and defeated, a decade later, having helped pave the way for the collapse of the Soviet Union.
Filed under: Afghanistan • George McGovern • Iraq
Posted: 10:40 AM ET
By Karl Rove, former senior adviser and deputy chief of staff to President George Bush.
Its call sign has always been Air Force One. But on Tuesday, it was Special Air Mission 28000, as former President George W. Bush and his wife Laura returned home to Texas on a plane full of family, friends, former staff and memories of eight years in the White House.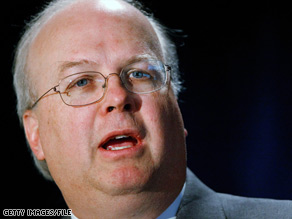 The former president and his wife thanked each passenger, showing the thoughtfulness and grace so characteristic of this wonderful American family.
A video tribute produced warm laughter and inevitable tears. There was no bitterness, but rather a sense of gratitude - gratitude for the opportunity to serve, for able and loyal colleagues, and above all for our country and its people.
Yet, as Mr. Bush left Washington, in a last angry frenzy his critics again distorted his record, maligned his character and repeated untruths about his years in the Oval Office. Nothing they wrote or said changes the essential facts.
To start with, Mr. Bush was right about Iraq. The world is safer without Saddam Hussein in power. And the former president was right to change strategy and surge more U.S. troops.
(Read the rest of Rove's commentary HERE)
Filed under: Iraq • Karl Rove • President Bush