September 28, 2009
Posted: 01:08 PM ET
June 17, 2009
Posted: 11:06 AM ET
This is an LKL Web Exclusive from actress Shiva Rose, who is of Iranian descent. She has appeared in numerous television series and movies, including "CSI: Miami" and "The Practice."  Shiva was on LKL last night discussing the latest developments in Iran, and wrote this exclusive commentary:
Iran is where I was raised for the first ten years of my life. Although I consider myself an Iranian-American my soul still feels a longing for its motherland, the physical earth where I took my first steps. I am watching the unfolding of the events in Iran with bated breath.
In 2000 when Gore had to concede to Bush I felt such a deep sense of abandonment and despair that I was wondering why we as Americans didn't take to the streets. Recently in 2008 with Obama's victory I finally felt like I could believe again in our system and that there truly was "hope" for our future. I suppose that's why I can genuinely relate to those marching in Iran. Of course there the situation is much more oppressive but the sense of fighting for our votes to be counted is what I can understand. It is pretty astounding that there hasn't been anything on this scale since the revolution of 1979. During the Khatami elections in 2005, there were a few outcries when he lost to Ahmadinejad, but it seems the people are now more galvanized. When Khatami once seemed like he was alone in his fight, now four years later, there is a significant sea change with Khatami's support of Mousavi.
From the reports we know that the marches are a constant flood of people from all areas of Iranian life. There are students, families with children, elderly, factory workers, women in chadors all marching to support Mousavi from Tehran's Freedom Square to Shiraz and Isfahan. There are even demonstrations in Dubai. I worry and fear though that this situation may erupt into a Tiananmen Square massacre. Already there are the reports of students killed at the universities yesterday and the ones killed in the marches. The regime has very few options. Even if the Ayatollah's authorize an investigation, how will it be reliable and accepted? The fact that they claim that they were able to count 45 million ballots by hand in two hours is pretty preposterous and leads one to doubt their subtlety in duping a nation.
I am wracking my brain trying to think of what we can do. I suppose the best thing is to just be witnesses. Even with the shutting down of the Internet in Iran, we are still able to get footage taken by phones and twitter. This is a new landscape for totalitarian regimes and maybe the ammunition we need to keep human rights available for all of us.
Filed under: International • Iran • Larry King Live • LKL Web Exclusive
June 14, 2009
Posted: 04:10 PM ET
Tonight, the show that grabbed headlines around the world.  An encore presentation of Larry's interview with one of the most controversial people in the world: Iran's President Mahmoud Ahmadinejad.
Even without charges of rigging elections, Ahmadinejad is a very controversial figure.  In this hour, he talks about Isreal, Iranian – U.S. relations, then candidate Barack Obama, and wait till you hear what he says about whether there are homosexuals in Iran.
And we want to hear from you:
Are the Iranian election results legitimate?
Filed under: International • Iran • Larry King Live
June 8, 2009
Posted: 11:56 PM ET
My friends Farhad and Mahnaz are the quintessential Iranian couple. They are both engineers with a shared passion for hiking and movies and have been smitten with each other for six years — but Farhad and Mahnaz can't afford to get married because even a one-bedroom apartment is beyond their reach, despite their both having decent middle-class jobs. This reality has preyed on their relationship, compelling them to consider leaving Iran. And they blame the government for their situation.
"We aren't lazy, and we aren't aiming for anything so high," says Mahnaz.
These days, the phrase "marriage crisis" pops up in election debates, newspapers and blogs and is considered by government officials and ordinary Iranians alike to be one of the nation's most serious problems. It refers to the rising number of young people of marrying age who cannot afford to marry or are choosing not to tie the knot. By official estimates, there are currently 13 million to 15 million Iranians of marrying age; to keep that figure steady, Iran should be registering about 1.65 million marriages each year. The real figure is closer to half that. (See photographs of "The Long Shadow of Ayatullah Khomeini.")
Why does this matter? Because Iran's government cannot afford to further alienate the young people that comprise more than 35% of its population. The young are already seething over their government's radical stance in the world and its trashing of the economy, and their anger easily expresses itself politically. As they decide how to vote in Friday's presidential election, young people like Farhad and Mahnaz are likely to base their decision in part on who they think will address the problem closest to their heart. (Read "North Korea Wipes Out Iran — from the World Cup.")
Filed under: Iran • Larry King Live • Politics
April 20, 2009
Posted: 02:12 PM ET
By Edward Cody/Washington Post

In a defiant speech, Iranian President Mahmoud Ahmadinejad argued before a United Nations anti-racism conference Monday that Israel is a "paragon of racism," founded on what he called "the pretext of Jewish sufferings" during World War II.
The comments, a hard-edged version of Ahmadinejad's often-repeated anti-Zionist views, prompted several dozen European diplomats to walk out of the opening session of the week-long Geneva meeting, which the Obama administration and eight other Western nations already were boycotting. In addition, a handful of pro-Israel protesters shouting "shame, shame" and "racist, racist" threw things at the podium and prevented Ahmadinejad from entering a room where he was to hold a news conference.
Filed under: Iran • Larry King Live
March 3, 2009
Posted: 07:23 AM ET
WASHINGTON — President Obama sent a secret letter to Russia's president last month suggesting that he would back off deploying a new missile defense system in Eastern Europe if Moscow would help stop Iran from developing long-range weapons, American officials said Monday.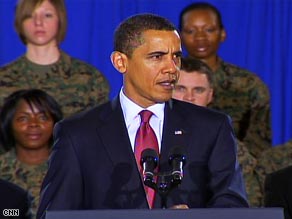 The letter to President Dmitri A. Medvedev was hand-delivered in Moscow by top administration officials three weeks ago. It said the United States would not need to proceed with the interceptor system, which has been vehemently opposed by Russia since it was proposed by the Bush administration, if Iran halted any efforts to build nuclear warheads and ballistic missiles.
The officials who described the contents of the message requested anonymity because it has not been made public. While they said it did not offer a direct quid pro quo, the letter was intended to give Moscow an incentive to join the United States in a common front against Iran. Russia's military, diplomatic and commercial ties to Tehran give it some influence there, but it has often resisted Washington's hard line against Iran.
Filed under: International • Iran • President Obama