SUNDAY UPDATE:  Your response to our question about Barack Obama's inauguration has been fanastic, so we're going to help the discussion continue!  We want to hear from YOU!  We'll be using your comments during Larry's LIVE show from Washington, D.C., tonight.  It's a special Sunday edition of "Larry King Live!"   As our nation says good-bye to one president and watches the inauguration of another we want to hear your thoughts - good, bad or otherwise - on what all this means to you!  COMMENT HERE!
And, tune-in to Larry's LIVE show tonight!  We just may use your comment ON THE AIR.
CLICK HERE to read MANY more comments! 
Please:
1) Stay on topic.
2) Keep it short
3) No curse words
4) Use a name (no initials or screen names)
Filed under: Inauguration • Larry King Live • Question of the Day
Barack Obama's inaugural address could be one of the most eagerly anticipated speeches ever given. As the world awaits his words on Tuesday, the speculation is rife: Will he be as eloquent as Lincoln? Can he match the oratory of JFK? Or even of Ronald Reagan?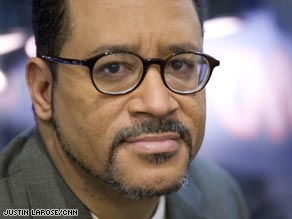 But to understand what Obama does with language - how words crackle and sentences simmer, or sing, in his mouth - you can't just turn to theories of rhetoric or listen to other gifted presidential communicators. You have to get a feel for black speech, whose best rhetoricians marry style and substance to spawn a uniquely earthy eloquence.
I expect Obama's inaugural address to reflect this speech in full, the kind of speech he heard for years from black preachers in the church pulpit. Because as much praise as he has justly received for speaking in a way that doesn't assault the white eardrum or worldview, his rhetoric is firmly rooted in black soil.
(Read the rest of Dyson's column HERE)
Michael Eric Dyson is a University Professor of Sociology at Georgetown University, and author of 16 books, including the New York Times bestseller, "April 4, 1968: Martin Luther King, Jr.'s Death and How it Changed America."
Filed under: Inauguration • Michael Eric Dyson • President-Elect Obama
We are having a special live Sunday show tonight from DC!!  We'll be talking about the preparations for the inaugurations, as well as checking in at some of the pre-inauguration festivities.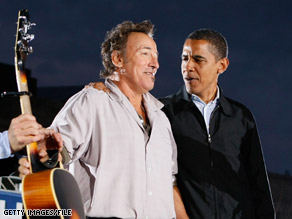 Dozens of major celebrities will perform on several nationally televised shows, as well as 10 inaugural balls the evening after Obama is sworn in as the 44th U.S. president.
The celebration will open Sunday evening on the steps of the Lincoln Memorial with a free concert so star-studded it's hard to choose a headliner.
Beyonce, Bono and Bruce Springsteen are on the list.
Other musical performers include Mary J. Blige, Garth Brooks, Sheryl Crow, Renee Fleming, Josh Groban, Herbie Hancock, Heather Headley, John Legend, Jennifer Nettles, John Mellencamp, Usher Raymond IV, Shakira, James Taylor, will.i.am, and Stevie Wonder.
UPDATED:  Here's a great story on how DC's social scene will be changing with the incoming administration – Read it HERE
Filed under: Inauguration • Larry King Live • President-Elect Obama
Saturday, James Taylor and John Legend join Larry King from our nation's capital!  Larry is live tonight from Washington, D.C., and welcomes James Taylor, John Legend, Quincy Jones and "Fall Out Boy's" Pete Wentz to his set.  Each has traveled to DC to participate in inaugural events, but will swing by for a chat with Larry.  Plus, you'll get the latest on the inaugaration and Pres. Elect Obama's train ride into town.  And, we'll talk politics of course!  It's a special, LIVE edition of "Larry King Live" tonight.
Filed under: Inauguration • Larry King Live • Obama