April 8, 2010
Posted: 09:00 PM ET
WATCH LARRY KING LIVE FRIDAY AS JESSE VENTURA, ROD BLAGOJEVICH, AND RON PAUL TAKE ON THE HOT ISSUES!
Via MSNBC.com
Like it or not, the 2012 presidential race is already underway.
Beginning Thursday, thousands of Republicans will gather in New Orleans for the Southern Republican Leadership Conference, a three-day event that's the GOP presidential nomination's equivalent of the annual NFL Scouting Combine for aspiring draft picks.
The lineup includes prominent Republican VIPs who might run for president, including former Alaska Gov. Sarah Palin, former House Speaker Newt Gingrich and Texas Gov. Rick Perry. And political observers will be looking for clues about the nascent battle for the Republican presidential nomination.
Four years ago in Memphis, Tenn., Mitt Romney made a splash at the event, coming out of nowhere to finish a surprising second at the conference's straw poll. The strong showing was an early indication that the Massachusetts governor would be a player in the 2008 presidential contest.
(The conference, however, isn't always a reliable predictor of the eventual GOP presidential nominee. The winner of the 2006 straw poll was former Republican Senate leader Bill Frist of Tennessee, who never ran for president. Another closely watched Republican who spoke at the event — former Virginia Sen. George Allen — ended up losing his seat later that year.)
But even if its top performers don't always go on to the GOP nomination, the SRLC serves as the first real opportunity for party leaders, prominent donors and the political press corps to size up the early field.
March 30, 2010
Posted: 01:23 PM ET
via wsj.com
The Republican National Committee said Monday that it had fired an employee involved in running up a bar tab of nearly $2,000 at a risqué Los Angeles-area nightclub that was later charged to the committee.
The announcement came after a political Web site reported that the RNC's February financial filing showed it had paid the bar bill at the club, Voyeur. The item in The Daily Caller caused a small tempest and threatened to become a distraction for RNC Chairman Michael Steele, whose leadership and spending decisions have been criticized by party officials and rank-and-file members.
Voyeur is an erotic-themed club inspired in part by the racy movie "Eyes Wide Shut," according to an October review of the venue in the Los Angeles Times.
The expense was incurred after an RNC event for young Republican donors in Los Angeles, according to a memo issued Monday by Ken McKay, the committee's chief of staff. After the event, several Republicans went to the club on their own, Mr. McKay wrote.
The $1,946 tab they ran up was covered by GOP donor Erik Brown and later submitted by him to the RNC for reimbursement. On Monday, after news of the event became public, the RNC said Mr. Brown had agreed to repay RNC. Mr. McKay also said the committee fired a staffer who was at the bar and had told Mr. Brown he could obtain reimbursement for the tab.
Filed under: GOP
June 17, 2009
Posted: 07:49 AM ET
Sen. John Ensign of Nevada admitted Tuesday to an extramarital affair with a woman who had worked for him.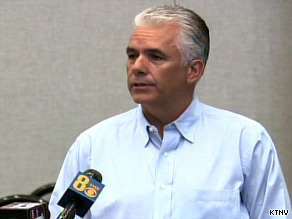 Ensign, 51, would not identify the woman but said she and her husband had been "close friends." Her husband, he said, also worked for him.
"Last year, I had an affair," the Republican senator said outside his office in Las Vegas. "I violated the vows of marriage. It's absolutely the worst thing I've done in my life.
"I take full responsibility for my actions. I know I have deeply hurt and disappointed my wife, Darlene, my children, my family, friends, my staff and those who believed in me. And to all of them, especially my wife, I'm truly sorry," he said.
The senator's office also released a statement from Ensign's wife, saying, "Since we found out last year, we have worked through the situation and we have come to a reconciliation. This has been difficult on both families. With the help of our family and close friends, our marriage has become stronger. I love my husband."
Ensign's spokesman, Tory Mazzola, said Ensign and a campaign staff member carried on the affair from December 2007 through August 2008. Her husband was an official Senate staff member for the senator.
Neither remained in Ensign's employ as of May 2008.
Filed under: GOP • Larry King Live • Politics
May 19, 2009
Posted: 01:23 AM ET
From CNN Political Editor Mark Preston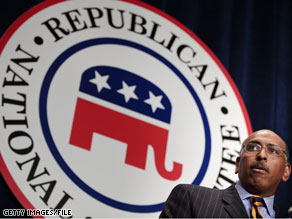 RNC chairman Michael Steele will issue a rallying cry to his embattled party in a speech Tuesday.
WASHINGTON (CNN) – Republican National Committee Chairman Michael Steele will tell GOP state leaders Tuesday that they must embrace conservative principles, focus their efforts on rebuilding the party and highlight the policy differences between Republican ideals and President Obama's agenda.
"The era of apologizing for Republican mistakes of the past is now officially over," Steele will say in a speech to the RNC's 2009 State Chairmen's Meeting, according to excerpts obtained by CNN. "It is done. We have turned the page, we have turned the corner. No more looking in the review mirror. From this point forward, we will focus all of our energies on winning the future."
Congressional Republicans, who were loyal to President Bush throughout a majority of his two terms, largely sought to break with him in the 2008 elections because he had become a political liability.Over the past few months, GOP lawmakers have acknowledged that the party moved away from one of its core principles of smaller government and less federal spending during the Bush era.
Steele, who was elected to head the party in January, will say the GOP is now "beginning to rally" at the grassroots level after losing control of the White House and additional seats in the Senate and House in November.
"Those of you who actually attend Lincoln Day dinners, county party events, and tea parties…those of you who toil in the vineyards, spending time in communities, in diners, barber shops, and coffee shops where real every day people can be found…you know it is real," Steele will say, according to the excerpts.
The RNC chairman faces a difficult task of keeping the party united as different political factions maneuver to try and influence what political direction the GOP should head. Social conservatives argue that the party needs to return to its roots on issues such as abortion and stem cell research while centrists counter the GOP needs to be welcoming of all Republicans including those who believe in a more liberal political ideology.
Already, there have been casualties in this political fight. Pennsylvania Sen. Arlen Specter recently became a Democrat, saying that he realized his political views were no longer in line with the Republican Party, and admitting he would have faced a difficult GOP primary in his re-election bid. Former Virginia Rep. Tom Davis, who is now the president of the centrist organization Republican Main Street Partnership, told CNN he thought Specter "was pushed" out of the party, and warned that other centrist GOP lawmakers might also leave if they no longer feel welcomed.
And in a recent appearance on CBS' Face the Nation, former Vice President Dick Cheney said he preferred conservative radio talk show host Rush Limbaugh over his former colleague, Secretary of State Colin Powell, when it came to Republican politics. Powell had endorsed Obama over Republican nominee John McCain in the 2008 election.
In his speech, Steele will point to the late President Ronald Reagan, the architect of the modern-day Republican Party, to explain his own view on the GOP's future.
"As conservatives we must stop acting like we don't really believe in our principles," Steele will say. "Too often we act as if we are scared to apply our timeless principles to today's problems and challenges… For Reagan's conservatism to take root in the next generation we must offer genuine solutions that are relevant to this age."
And when it comes to the president, Steele will charge that on the campaign trail "Obama was very moderate in his views," but that since taking office the president "could not possibly be further to the far left."
"We are going to take this President on with class, we are going to take this President on with dignity," Steele will say. "This will be a very sharp and marked contrast to the shabby and classless way that the Democrats and the far left spoke of the last President."
The RNC meeting wraps up on Wednesday with a scheduled vote on a controversial resolution that calls on Democrats to rename their party the "Democrat Socialist Party."
Filed under: GOP • Larry King Live • Politics
May 8, 2009
Posted: 09:51 AM ET
By Meghan McCain, daughter of US Senator John McCain
The first time I ever heard about oral sex was during the Lewinsky scandal. Mostly, I remember being confused by President Clinton's response—"It depends on what the meaning of 'is' is."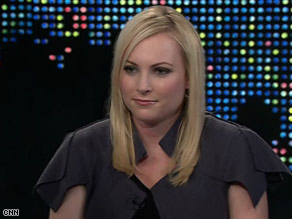 When it comes to sex, politicians face all sorts of double standards: who is allowed to have sex with whom, what constitutes sex, and whether it's appropriate, to name a few. Candie's Foundation's announcement that they were partnering with Bristol Palin to promote an abstinence-only campaign has caused me to reflect on my own experiences as a political daughter, and the role sex plays in defining the Republican Party.
Let me get something straight: Bristol Palin, as an 18-year-old adult, is free to make her own choices and decide how she wants her life to unfold. But for whatever reasons, the American public and media remain overly engrossed in our politicians' sex lives and, as in this case, those of their families. There's an especially unhealthy attitude among conservatives. Daughters of Republican politicians aren't expected to have sex, let alone enjoy it—as if there were some strange chastity belt automatically attached to us female offspring. God forbid anyone talk realistically about life experiences and natural, sexual instincts. Nope, the answer is always abstinence.
Filed under: GOP • Meghan McCain
April 14, 2009
Posted: 12:03 AM ET
By Ralph Z. Hallow/Washington Times
Republican National Chairman Michael S. Steele has launched a direct attack on President Obama in a new mass mailing, accusing the president of being part of the "blame America first" crowd, The Washington Times has learned.
Criticized by some in the party for not taking on the Democratic president hard enough or often enough, Mr. Steele took the gloves off in a fund-raising letter sent out Monday to 12 million party supporters. Recipients included RNC donors as well as the mailing lists of two conservative organizations, Human Events and GOPUSA, according to RNC communications director Trevor Francis.
Mr. Steele wrote that Mr. Obama's comments criticizing the United States on his recent European tour showed "an absence of wisdom."
Mr. Steeles letter also slammed the Democratic president for saying he was open to possible talks with Iran. Apparently, he believes he can make peace with crackpot tyrants and heartless terrorists simply by sitting down and talking, the Steele letter said.
Filed under: GOP • Larry King Live • Politics • President Obama