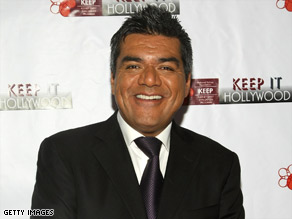 Note: Late night host George Lopez will be joining us TONIGHT – we'll get his take on Conan O'Brien joining him on TBS, or as he called it via twitter, "Team LO-CO." Do you think this is a good move for Conan?  Will you watch his new show on TBS?  We want to hear what you think, and don't forget to tune in tonight at 9pmet!
Ousted "Tonight Show" host Conan O'Brien will return to late-night television in November with a show on cable channel TBS, the network said Monday.
O'Brien's talk show will air weeknights at 11 p.m. ET/PT, leading into "Lopez Tonight" which will shift to a midnight start, TBS said.
"I can't think of anything better than doing my show with Conan as my lead-in," George Lopez said. "It's the beginning of a new era in late-night comedy."
Negotiations for the deal began last week after Lopez called O'Brien to ask him to consider joining the network, TBS said.
Posted by: LKL Producer Hunter Waters
Filed under: Conan O'Brien • George Lopez • Larry King Live