June 7, 2010
Posted: 04:11 PM ET
Swimmer Dara Torres filled the record books with her accomplishments.  World records and Olympic medals littered her resume.  Then she won 3 silver medals at the Beijing Olympics - at the age of 41.  Torres has written a book about how she did it called Gold Medal Fitness.  Below, Torres shares a few of her tips (complete with pictures).  We encourage everyone over 40 to read this, especially LKL Blog Producer Jason Rovou, who turns 40 TODAY (he's actually only 36, but it's a running joke).
After the 2008 Beijing Olympics I met hundreds of women and girls who wanted to hear about how I had made a comeback as a 41-year-old athlete. I spent a lot of time on the road meeting hundreds of people, many of whom approached me with questions: "How do you do it?" "I can't believe you're still going so strong! What's your secret?"
I began to think about how I approach training and how my regimen might actually help other people—regardless of their age or level of athleticism—get into better shape. Yes, I've been a competitive athlete for a long time, and I probably do have a genetic edge in terms of body type and athletic skill. But I am also just like you—a busy woman and mother, juggling work, child-raising, and training (my primary job). And like you, my day doesn't end when I finish training for the day —I then turn to my very active four-year old daughter who wants to play, read, and have dinner!
I realized that over the years, I've had to adjust my training for better results and a changing body. I also realized that training does not mean focusing on one part of your body or group of muscles: it's a full-body experience and approach to taking care of oneself. For all of you women out there who think you might have what it takes—to get physically fit, regardless of your age, your shape, your weight, or your long list of endless responsibilities—you definitely can!
Filed under: Fitness • LKL Web Exclusive
May 5, 2009
Posted: 07:13 AM ET
Celebrities and their bodies. We're obsessed. They're obsessed. And it spills over to how many people feel about themselves. But how much concern over weight gain is about vanity and how much is about critical health issues?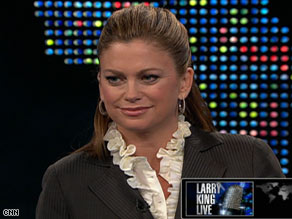 On last night's show,Kathy Ireland and Bob Greene joined Larry to talk about the subject, prompted by Kirstie Alley's well-publicized battle with weight.  Here's a portion:Larry King: After being on "Oprah" a few years ago, revealing her bikini body, Kirstie Alley returned last week to tell us about losing her battle with weight. Watch.
Oprah Winfrey: Can you believe that? This is what I said, you know, when I came out about falling off the wagon. I can't believe I'm still talking about it. Can you?
Kirstie Alley: No. It is sort of ... humiliating. I think the biggest, most painful thing for me is I have all these people I inspired and then I let them down.
King: Are we overly involved with this topic, Kathy?
Kathy Ireland: Well, I think we are for the wrong reasons. And I think there is such an obsession with appearance. With my weight gain, people wanted the know, well, when is she going to squeeze back into a bikini? No. That is not what it's about. But what people weren't asking me, what's the triglyceride level? What is the C reactive protein?
Filed under: Bob Greene • Fitness • Health • Larry King Live
January 12, 2009
Posted: 06:54 PM ET
The Biggest Loser's fitness trainers, Bob Harper and Jillian Michaels, let us in on secrets behind the new season.
  PLUS "Loser" winners Ali Vincent, Michelle Aguilar and Jim Germanakos along with other previous contestants will tell us if they are still winning in the battle against weight gain. 
Have a question or comment?  CLICK HERE!
Tonight, 9 p.m., ET
Filed under: Fitness • Larry King Live