March 10, 2010
Posted: 04:03 PM ET
We will be discussing Farrah's snub tonight on LKL.  Among our guests will be friends Dick Van Patten and Cindy Spelling.
via People.com
It was no oversight. The executive director of the Academy of Motion Picture Arts and Sciences has apologized to the friends, family and fans of Farrah Fawcett, who was conspicuously omitted from Sunday night's Oscar-event tribute to Hollywood personalities who had died over the past year.
While some agents and publicists, besides actors, were included in the memorial, Fawcett, a high-profile star better known for her TV work (who also appeared on the big screen), was not. Neither was Gene Barry – who was seen in both versions of War of the Worlds – or Bea Arthur.
Among those criticizing the Academy for its selective omissions were critic Roger Ebert and Oscar-winner Jane Fonda.
In response, the Academy's Bruce Davis, who was responsible for the "in memoriam" segment (and has been since the tradition began in 1993), said late Tuesday: "There's nothing you can say to people, particularly to family members, within a day or two of the show that helps at all. They tend to be surprised and hurt, and we understand that and we're sorry for it."
Filed under: Entertainment • Farrah Fawcett
August 4, 2009
Posted: 08:33 AM ET
Griffin O'Neal, the son of Ryan O'Neal, paints a vivid picture of violence, drugs and sexual infidelity surrounding the actor.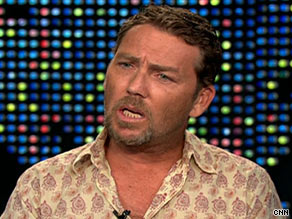 In an emotionally explosive interview with LKL last night, Griffin O'Neal claimed that:
• His father attempted to shoot him and injured Griffin's wife and him with a fireplace poker.
• Ryan was habitually unfaithful to his partner Farrah Fawcett, who died of cancer June 25.
• Ryan partied with Griffin's half-brother, Redmond, and said his father was responsible for Redmond's drug problems.
• Ryan didn't recognize his own daughter, Tatum, at Farrah's funeral and asked her for a drink.
The following interview has been edited for clarity and brevity:
Larry King: Was [Farrah Fawcett] a good friend?
Griffin O'Neal: She was a great friend. Yes. I came from a not-so-nice kind of a world. We were a kind of a battling and kind of crazy family. And she was so nice, I didn't trust her. ... And the crazy, sad part was that she stayed nice all the way to the end. And it broke my heart when I was not allowed in to say good-bye to her.
King: Well, how old were you when Ryan and her got together?
O'Neal: Thirteen, sir.
King: Were you close with your biological mother [Joanna Moore]?
O'Neal: My mother died back in '97. And, yes, my mother was the light of my life.
King: Were she and Farrah close?
O'Neal: They had met once. They had a lot in common, just because they were two lovely Southern belles.
King: You weren't allowed to attend the funeral at the cathedral. Why not?
O'Neal: I guess I'm a bad guy.
King: Who didn't let you attend?
O'Neal: Ryan didn't want me in. I call him Ryan now. I've had to let go of him as being my dad, not that he was ever really a dad. But he said, no, no Griffin. Tatum, Patrick, even my daughter was allowed in. It's OK. I said my good-bye to Farrah the day that she died. [Tatum is Griffin's sister, and Patrick is Griffin's half-brother, the child of Ryan and Leigh Taylor-Young.]
Check out MORE of the interview HERE
Filed under: Farrah Fawcett • Hollywood • Larry King Live
July 28, 2009
Posted: 09:23 AM ET
Details of Farrah Fawcett's will have surfaced and reports indicate that the 70's television icon left her entire estate to her son, Redmond, and nothing for her longtime partner Ryan O'Neal.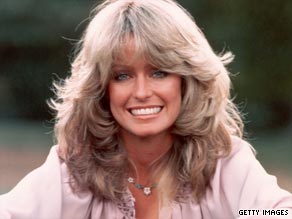 The actress updated her will in 2007, after learning her cancer has spread into her liver. The majority of the actress's nearly $6 million estate was placed in a trust fund for her 24 year old son.
The Daily Mail reports, "Farrah appointed two trustees to make sure the money supports her son's journey into sobriety rather than giving him the means to destroy himself. Redmond's inheritance will be tightly controlled." O'Neal (who is also Redmond's Father) will not be one of the trustees.
Redmond, Fawcett's only child, has struggled with both drug and alcohol addictions. He is currently serving time in a Los Angeles jail, on drug-related charges. Once he is released, he will get a monthly allowance from the fund as well as money to buy a home.
Filed under: Farrah Fawcett • Hollywood
June 30, 2009
Posted: 07:28 AM ET
Redmond O'Neal will be temporarily freed from jail to attend the funeral of his mother, actress Farrah Fawcett, on Tuesday, officials said.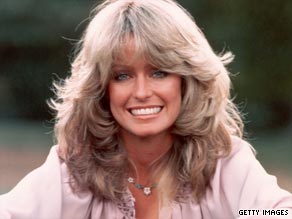 Fawcett, the blonde-maned actress whose best-selling poster and "Charlie's Angels" stardom made her one of the most famous faces in the world, died Thursday. She was 62, and had battled anal cancer off and on for three years.
O'Neal was arrested in September when deputies found methamphetamine during a probation search at the Malibu, California, home of his father, actor Ryan O'Neal. The younger O'Neal was on probation for a 2008 felony drug conviction involving heroine and meth.
Monday's court order will allow Redmond O'Neal out of jail for up to three hours for the funeral. A sheriff's deputy is to accompany him at all times, according to the order, issued in Los Angeles County Superior Court.
O'Neal, 24, will be allowed to wear civilian clothes for the funeral.
He is undergoing what the sheriff's department has called an "intense drug rehabilitation program" in the L.A. County jail.
Filed under: Farrah Fawcett
June 29, 2009
Posted: 08:02 AM ET
A private funeral service for actress Farrah Fawcett will be conducted Tuesday afternoon at the Cathedral of Our Lady of the Angels in downtown Los Angeles, California, according to her publicist.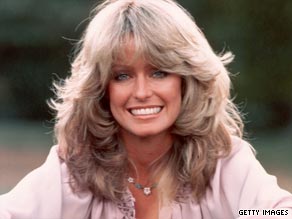 The family did not release any details about who would deliver the eulogy or how many people have been invited.
Fawcett, the blonde actress whose best-selling poster and "Charlie's Angels" stardom made her one of the most famous faces in the world, died Thursday. She was 62, and had been battling anal cancer on and off for three years.
Fawcett's beauty - her gleaming smile was printed on millions of posters - initially made her famous. But she later established herself as a serious actress. She starred as a battered wife in the 1984 TV movie "The Burning Bed."
She appeared on stage as a woman who extracts vengeance from a would-be rapist in William Mastrosimone's play "Extremities," a performance she reprised on film in 1986.
Filed under: Farrah Fawcett
June 25, 2009
Posted: 04:15 PM ET
Farrah Fawcett was Larry's guest in 1994.  Here are a few highlights from that show, and we'll be playing more on tonight's LKL.

Filed under: Entertainment • Farrah Fawcett
Posted: 03:27 PM ET
We will be looking back at the life of Farrah Fawcett tonight on LKL.  Below are Larry's thoughts on Farrah and her career.
Farrah Fawcett's career spanned four decades, and she reinvented herself several times during her career.  Of course, what she'll be most remembered for is that extraordinary show, "Charlie's Angels."  Even though all the actresses in that show were good, she was clearly the star.
She'll also be remembered for that poster.  There's never been one like it, and there will probably never be another that comes close to getting the attention it did.  The hair, the face, the bathing suit, the angle, she shot.  It is the poster of all posters.
Of course she was very pretty, but I'd also say she was a good actress.  One of the problems with actors and actresses when they're attractive is it's hard to judge how good they are at their craft.  Brad Pitt is very good looking, and he's also a great actor, but it's hard for people to make that judgment about him because his looks are so distracting.  I think the same was probably true of Farrah.
This story is going to get a lot of play today.  We're doing it tonight of course.  She became such a large figure I think, in part, because of when she launched her career.  TV had much more impact back in the '70's than it does today.  "Charlie's Angels" got huge numbers every week - nothing really dominates the television landscape like that today.  Maybe "American Idol" comes close, but now there are so many channels and so many more shows it's hard for anything to get the audience, or amount of attention, that "Charlie's Angels" got.  Farrah was a major tv star when the medium was clearly dominant and there weren't enough channels to water down viewing levels.
One thing I really admire about Farrah is the way she was able to reinvent herself, and you can argue she did it a couple of times.  Her career started with "Charlie's Angels," then there was "Burning Bed," where she went from bombshell to serious actress, and most recently in the way she dealt with her cancer so publicly.   It's hard to revinent yourself like she did, and you really have to admire her for it.
I had Farrah on my show once.  You'll see clips of it tonight, and there are also some clips posted on our blog.  It was 1994, so I don't remember much, but I do remember it was a fun interview.  I can honestly say I didn't know her that well.  We had several nice conversations the last few years about her coming on the show when she got better, but unfortunately, that didn't happen.  I'm sad today because she fought the good fight, and I really admire the way she did it in the public eye, giving strength to others in the same position.
Filed under: Farrah Fawcett • King's Things • LKL Web Exclusive