Filed under: CNN • Earthquake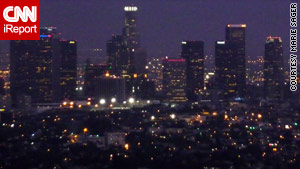 A magnitude-4.4 earthquake rattled residents of southern California early Tuesday morning, according to the U.S. Geological Survey.
There were no immediate reports of damage or injuries, authorities said. However, police and fire officials said they had received calls from residents awakened by the quake. Its epicenter was 11 miles east-southeast of the Los Angeles Civic Center, the USGS reported. It struck at 4:04 a.m.
"First it was a small one and then a big one," said Chris Curiel, who was working at the Vallejo Mini Market in Whittier, a town near the epicenter. "It felt like the floor was sinking."
He said merchandise on the shelves began shaking, but there was no damage. Because his market is a gas station, earthquakes are a bit more worrisome, he said.
Curiel said he knew immediately an earthquake was happening, and he has felt one before.
Ravi Singh, night shift supervisor at a 7-Eleven in Pico Rivera - the town a mile east-northeast of the epicenter - told CNN he was making coffee when the store's windows started rattling. There was no damage, he said. "Everything is fine."
Have YOU ever experienced an earthquake?
Filed under: CNN • Earthquake