September 13, 2010
Posted: 07:00 PM ET
Islamic Community Center controversy.
He's willing to put his money where his mouth is.
What would HE do with the site
near Ground Zero if he could buy it?

And!

Dr. Phil on his campaign against
domestic violence – and why he's
on a crusade against teen bullying.
Plus, he weighs in on Oprah's final season!
WHAT DO YOU WANT TO ASK DR. PHIL?
Send us your questions!
Filed under: Donald Trump • Dr. Phil McGraw
March 12, 2009
Posted: 10:02 AM ET
The Southern California mother of octuplets was given a baby shower of sorts on television's Dr. Phil show, with cribs, bunk beds, upgrades to her new home and nursing help to care for her 14 children – all provided free of charge.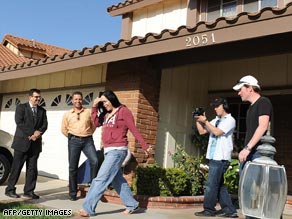 Various providers appeared before Dr. Phil McGraw's applauding studio audience to pledge their help creating a safe, clean home for Nadya Suleman's 14 children.
Suleman said she's grateful for the help, which is to include a new nursery, new flooring and other construction upgrades in the La Habra (Orange County) home she intends to live in with her children.
The fixes are being made in order to prepare the home for inspections from hospital officials, which determine whether the house is suitable for children, according to McGraw.
Kaiser Permanente Bellflower Medical Center spokeswoman Beth Trombley said she and a social worker from the hospital walked through the house Wednesday to provide recommendations, but would not specify what they were.
Filed under: Dr. Phil McGraw • Octuplets
February 25, 2009
Posted: 11:35 AM ET
 Dr. Phil McGraw didn't hold back in a recent interview of octuplets mom Nadya Suleman and her mother, Angela Suleman.
The talk show host had straight talk for Nadya about her having octuplets when she already had six young kids, and about the challenges ahead of her.
McGraw says he thinks Suleman is "a very confused young woman. I think, clearly, she is a loving mother. I think she has good intentions, but I think her ability and willingness to grasp the gravity of what's happened here is just really limited.
"My problem with her, which I made very clear to her, is not that she went and had eight babies, but that she went and even tried to have one more child. When you have six that you can't provide for, when have you six that you can't pay for and you go down intentionally to have a seventh baby, let alone ... up through 14, then that just doesn't make sense, and that's what I told her. And I think she eventually began to get that, but now she's in this situation, and what does she do about it?
Filed under: Dr. Phil McGraw • Octuplets