September 9, 2010
Posted: 07:00 PM ET
Katie Couric, Diane Sawyer, Brian Williams
and Sanjay Gupta 'stand up to cancer'.
Find out how you can join the fight!
Then!
Dr. Oz on his cancer scare!
What he learned that could save your life.
Plus, he takes your calls and questions.
WHAT DO YOU WANT TO ASK DR. OZ?
Send your questions below!
Filed under: Dr. Mehmet Oz • Health
April 12, 2010
Posted: 04:02 PM ET
Editor's note:  Lisa Oz is a writer, producer and entrepreneur.  But she's also mother and a wife – and happens to be married to one of America's most famous physicians – Dr. Mehmet Oz!  Lisa supplies insight and advice about relationships in her new book, "Us: Transforming Ourselves and the Relationships That Matter Most." 
Below, in this LKL Blog exclusive, Lisa explains that just because she's married to a diet and health guru, doesn't mean she skips bread at dinner…
By Lisa Oz 
I have begun to dread shopping.  As soon as I relinquish my credit card I get an unabashed once over and the incredulous "Are you related to Dr. Oz?" 
I reply that I am, thank them for being a fan of the show, and brace myself.
 "What's it like being married to America's Doctor?"
"Umm..." I stammer "great?"
"But do you feel extra pressure to be healthy?" (As if my natural inclination were to be sickly.)
"Not particularly" I reply reaching for the receipt.  Invariably they cling to it through the next round of questions.
"Does he watch everything you eat?"
"Not really."
"Does he make you exercise every day?"
"No." Honestly, he's my husband, not my personal trainer.
Filed under: Dr. Mehmet Oz • LKL Web Exclusive
April 7, 2010
Posted: 07:00 PM ET
[cnn-photo-caption image= http://i2.cdn.turner.com/cnn/2010/images/04/07/martina.navratilova.jpg caption=""]
PRIMETIME EXCLUSIVE – MARTINA NAVRATILOVA!
Tennis legend Martina Navratilova! A  fearless competitor on the court, now she faces her biggest opponent yet. Martina opens up on her personal battle with breast cancer. And! Dr. Oz joins her to answer YOUR medical questions!
PLUS – MINE BLAST SURVIVOR!
He lived to tell about the mine explosion he witnessed with his own eyes! A survivor details his scramble to escape! We'll have the latest on the desperate efforts to reach 4 trapped miners. Can rescuers get to them in time? The dramatic struggle to bring them out alive!
WHAT DO YOU WANT TO ASK MARTINA NAVRATILOVA & DR. OZ?
Filed under: Dr. Mehmet Oz • Health • Larry King Live
December 15, 2009
Posted: 08:57 AM ET
Beloved "30 Rock" cast member Grizzwald "Grizz" Chapman is undergoing dialysis treatment while on the wait-list for a kidney transplant.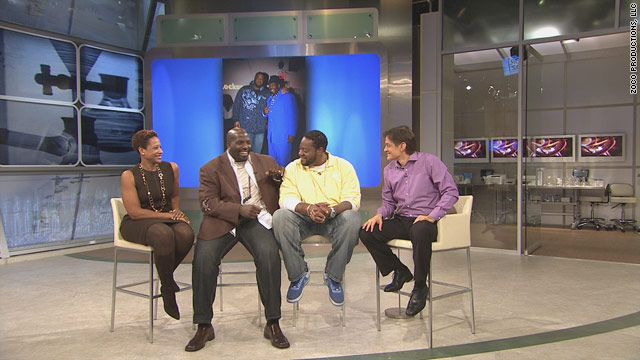 The 6-foot-11, 378-pound actor who plays one-half of Tracy Morgan's security detail on the Emmy-winning show is suffering from severe hypertension that has him on a dialysis machine three times a week. Chapman must lose more than 75 pounds before he can be considered a viable candidate for a transplant. Once he loses the weight, he could remain on the transplant wait list for up to five years.
In a bid to get healthy in anticipation of surgery, Chapman is working with Dr. Mehmet Oz of "The Dr. Oz Show."
The actor opened up to Dr. Oz, who is working to create a plan that will help him shed the pounds, on an episode of the daytime program that will air on Tuesday.
Chapman admitted to Dr. Oz that he ignored his high blood pressure and even refused to take medication for it for more than a decade. "Well, in the beginning I didn't take the blood pressure medicine, because listening to my friends, my friends told me, you know, if you start taking the medicines, you'll be on the medicine for the rest of your life. ... I just kind of brushed it off and, you know, continued on my, my normal everyday life," Chapman said on the show.
Chapman was joined on the set by his television sidekick, Kevin Brown, who portrays "Dot Com" on the show.
"He's getting that transplant!" Brown said. "I'll lose the weight with him. For every 10 pounds he loses, I'll lose one pound. That's a deal!"
Filed under: Dr. Mehmet Oz • Entertainment • Health