New York Gov. David Paterson has chosen Democratic Congresswoman Kirsten Gillibrand to succeed Hillary Clinton as U.S. Senator from New York, multiple Democratic sources told CNN Friday.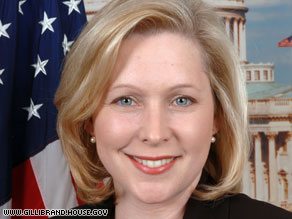 The New York Times and CNN affiliate WPIX both named Gillibrand, a 42-year-old conservative Democrat who unseated a veteran Republican in 2006, as Paterson's choice. But a Paterson spokeswoman, Erin Duggan, would not comment on the reports.
"The governor is making his announcement at noon today, and that is the only comment we are making at this time," Duggan said early Friday.
Filed under: Congress • Kirsten Gillibrand