November 16, 2010
Posted: 11:10 AM ET
Filed under: Colin Powell
April 16, 2010
Posted: 02:40 PM ET
In a week that started off with the largest gathering ever of foreign leaders in Washington, D.C. for a nuclear security summit and ended with the final stop of the Tea Party Express in the same city, there's been a lot of political news.
However, here are some of the stories you MAY have missed this week (click on the links for the full story!):
1. Former U.S. Secretary of State is 'crazy' for his iPhone.  Who knew?? (USNews)
2. A few months after her divorce with SC Governor Mark Sanford was finalized, former SC First Lady Jenny Sanford has a new boyfriend! (fitsnews)
3. Why did former Gov. Sarah Palin and Rep. Michele Bachmann draw such a huge crowd at a Minn. rally? Bill Maher believes its because they are 'MILFs'.  What's a MILF, you ask?  Click here. (NowPublic)
4. One of these people sang "I Got Friends in Low Places" to the other: Garth Brooks and Senator Dick Durbin. You're first guess is probably wrong. (politico)
5. Former NY Governor Eliot Spitzer's call girl posed for "Playboy."  The pictures are out there, but not linking them up here. You can certainly google them, though.
Posted by: LKL Producer Eleanor McManus, LKL Producer Hunter Waters
Filed under: Bill Maher • Colin Powell • Jenny Sanford • Michele Bachmann • Politics • Politics is King
August 21, 2009
Posted: 04:18 PM ET
Tune in to Larry King Live tonight at 9pmET/6pmPT for more of Larry's in-depth interviews with Gen. Colin Powell, LA Dodgers Manager Joe Torre, tennis champ John McEnroe and more.
Filed under: Colin Powell • Health • Larry King Live
August 8, 2009
Posted: 12:34 PM ET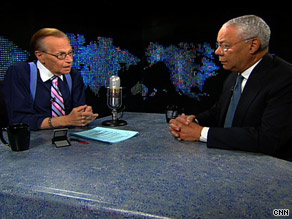 A look back at our newsmaking interview with Gen. Colin Powell.  He and Larry talk about everything from the Henry Gates controversy, Pres. Obama, Iraq, Afghanistan, and his comments on N. Korea are fascinating!
Plus, we want to hear from you:
If Colin Powell were to run for President, would you vote for him?
Filed under: Colin Powell • Larry King Live
July 28, 2009
Posted: 03:57 PM ET
Posted: 03:47 PM ET
The Prof. Gates controversy, Sarah Palin, Rush Limbaugh, Iran, Afghanistan, Pres. Obama - Larry and Colin Powell cover the world in an hour.
Watch here as Powell gives his take on the Gates controversy (he actually knows Prof. Gates), and tells his own story about racial profiling.  And watch tonight for his unique thoughts on the North Korea situation.   It's a fascinating perspective and one we've never heard before.
Filed under: Colin Powell • Larry King Live
January 17, 2009
Posted: 10:26 AM ET
by Former Secretary of State Colin Powell
Next week marks a fresh start for our nation. Whatever one's political leanings, each presidential inauguration is an opportunity for Americans to renew the energy required to deal with the challenges we face - never more so than when the challenges we face are without precedent.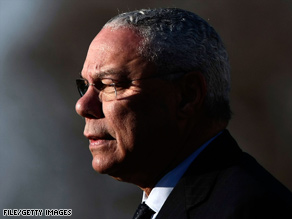 Over the course of their transition, President-elect Barack Obama and Vice President-elect Joe Biden have spoken with confidence and acted with competence. They've unveiled their plans for governing - plans that recognize it will require federal money to solve our economic problems at home, and diplomatic and military skill to meet our obligations abroad.
But they also realize an equally important truth. While government has a role to play in restoring the American dream at home and rekindling the dream that is America abroad, there are limits to its ability to restore our sense of purpose as a nation. That task falls to us. Particularly in hard times like these, we are charged with living up to our shared responsibility to one another.
(Read the rest of Powell's column here)
Filed under: Colin Powell